Did you know that the delicious and sugary Thanksgiving dish we know and love – the sweet potato casserole with browned marshmallows on top – was created by the marshmallow lobby in the early 1900's? (You can learn a little more here.)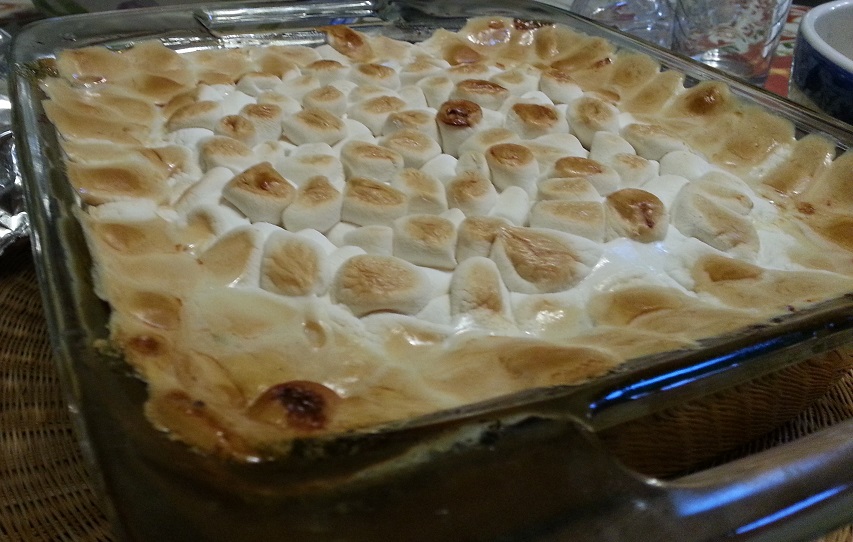 I know, that may slightly tear away some magic from this classic dish. But the fact is, so many popularized, American foods that aren't actually nutritious or beneficial – such as marshmallows – have simply become what they are due to smart advertising. Instead of getting too into the psychology and economics involved in the food industry (and further crapping on anyone's marshmallow-loving parade), let's just learn a little bit about marshmallows and where they came from.
Originating in ancient Egypt, marshmallows were a honey-sweetened candy made using the sap from the marshmallow root plant. It was soft and chewy, and used medicinally for ailments like sore throats.
Fast forward a few hundred years to the 19th century, and the labor-intensive methods of extracting marshmallow root sap made manufacturers come up with new processes (and involve new ingredients) which brought us to how we know the marshmallow today – as a light, fluffy, campfire treat which also tops the holiday sweet potato casserole.
Today's version of the confection no longer contains the source ingredient of it's name – marshmallow root – but instead, it is made up of a stabilizing protein such as gelatin (or agar, in Vegan versions) and sucrose (often with high fructose corn syrup).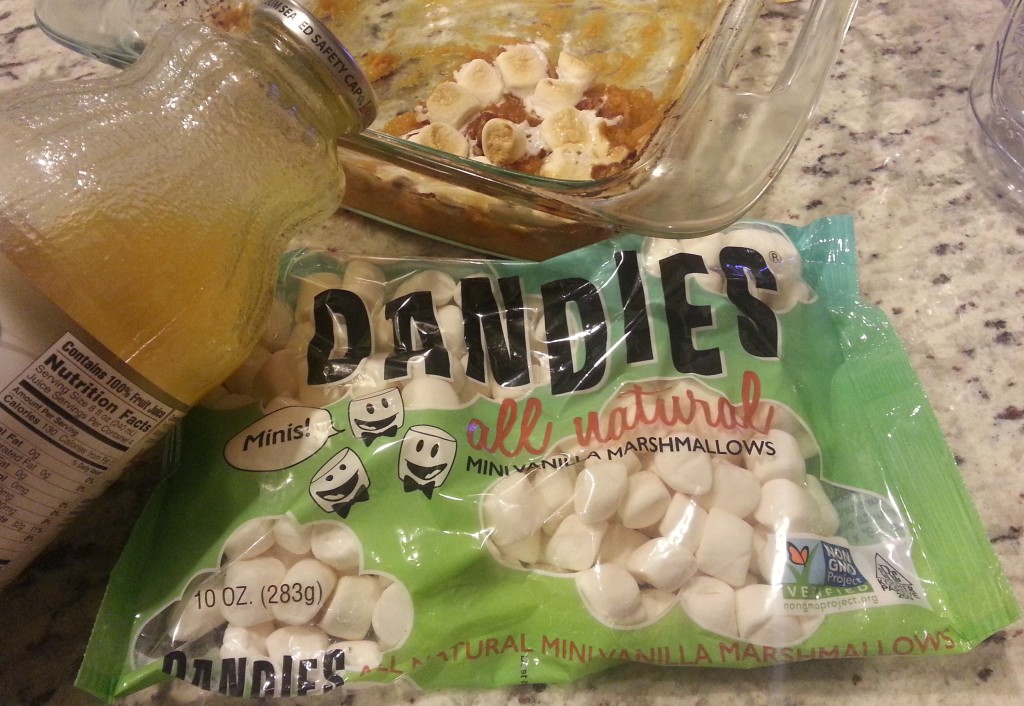 That said, there is nothing wrong with incorporating the better quality versions of marshmallows when making this crowd-pleasing dish once or twice a year. I use Dandies mini marshmallows, which contain no corn syrup, no gelatin, and no genetically modified ingredients. And, yes, they taste EXACTLY like your classic, name brand marshmallows – if not better.
As for the secret ingredient that gives this casserole a twist? Well, that would be mango juice of course.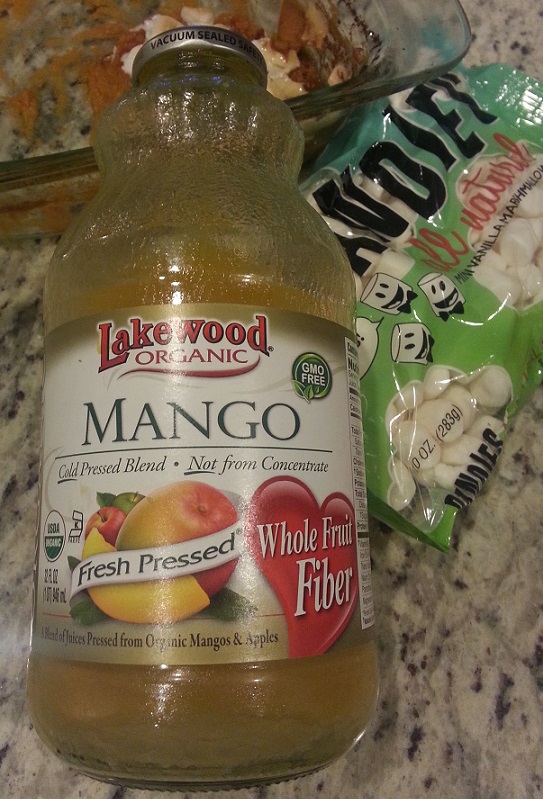 Most "classic" recipes call for heavy cream, which is meant to contribute creamy richness. It doesn't really alter the flavor, but it does bring in a LOT of unnecessary fat and calories. You won't find heavy cream or ANY dairy within this recipe, which has been a hit at many-a-holiday-dinner time and time again.
A Helpful Hint: If you choose go to back to your traditional sweet potato casserole recipe after trying this one (dare I say, doubtful?) try substituting canned coconut milk for your heavy cream. Though it will not lessen the overall calories or fat content, it will maintain the same creamy consistency and add a complimentary touch of flavor. All while being more plant-based friendly and allergen free.
If you just want to make a great sweet potato mash, you can stop before step 4 below and enjoy as is. It is just as delicious (and plenty sweet) without the marshmallow topping!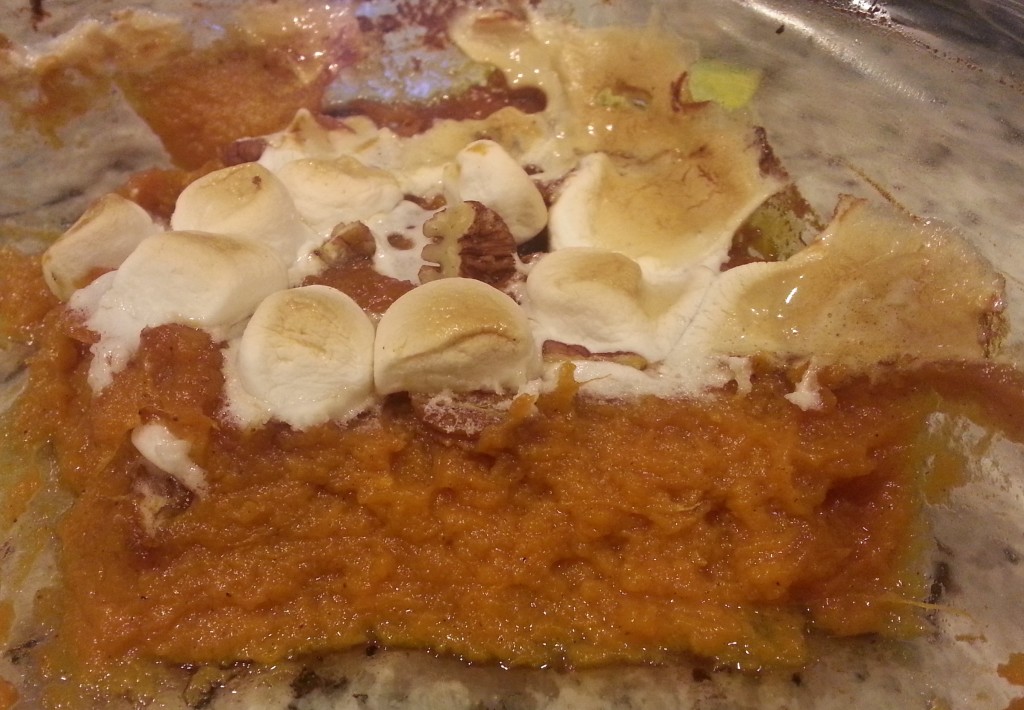 ---
CLASSIC SWEET POTATO CASSEROLE RECIPE (with a twist)
3 lbs Sweet Potatoes (about 4 large or 5 medium spuds)
1 tsp. pure vanilla extract
1/2 cup mango juice/nectar *I'm sure pineapple or orange juice would work, too… but try to find mango!
2 Tbsp. coconut sugar or light brown sugar
1/2 tsp. ground cinnamon
1/4 tsp. sea salt
1/2 cup pecan halves, chopped
Half a bag (5 oz.) of quality marshmallows *I use homemade, locally made, or Dandies mini-marshmallows
Preheat oven to 450 degrees F and line a baking sheet with tin foil.
Wash the sweet potatoes in the sink and pat dry. Pierce the tops of the potatoes with a fork, 2-3 times, before placing (holes up) on the baking sheet. Put in the oven for about 45-55 minutes, until sweet potatoes are fork tender and syrup begins to ooze out from the holes. Remove from oven and let cool until they aren't too hot to be handled (usually 15-20 minutes).
Lower the oven to 375 degrees F. Grab your 8×8 glass baking dish (metal is fine too, I'm sure – and 9×9 would also work). Peel the potatoes, putting the yummy orange flesh straight into the baking dish. Mash well with a potato masher or large fork. Add the vanilla extract, mango juice, sugar, cinnamon, and sea salt. Mash and mix together until all incorporated.
Use a spatula or the back of a spoon to even out top of the mash. Sprinkle the chopped pecans evenly all over the surface. Then do the same with the marshmallows.
Place on center rack in oven and bake at 375 degrees F for about 25 minutes, or until marshmallows begin to turn golden brown. Remove, let cool slightly, and enjoy!
*You can also make the dish ahead of time. Simply cover the mash in the baking dish after step 3 and refrigerate for up to 2 days. When ready to bake, remove from fridge for about 20 minutes to take the chill off and preheat the oven. Then add pecans and marshmallows, and bake as instructed above!