'Tis the season for warm and inviting soups.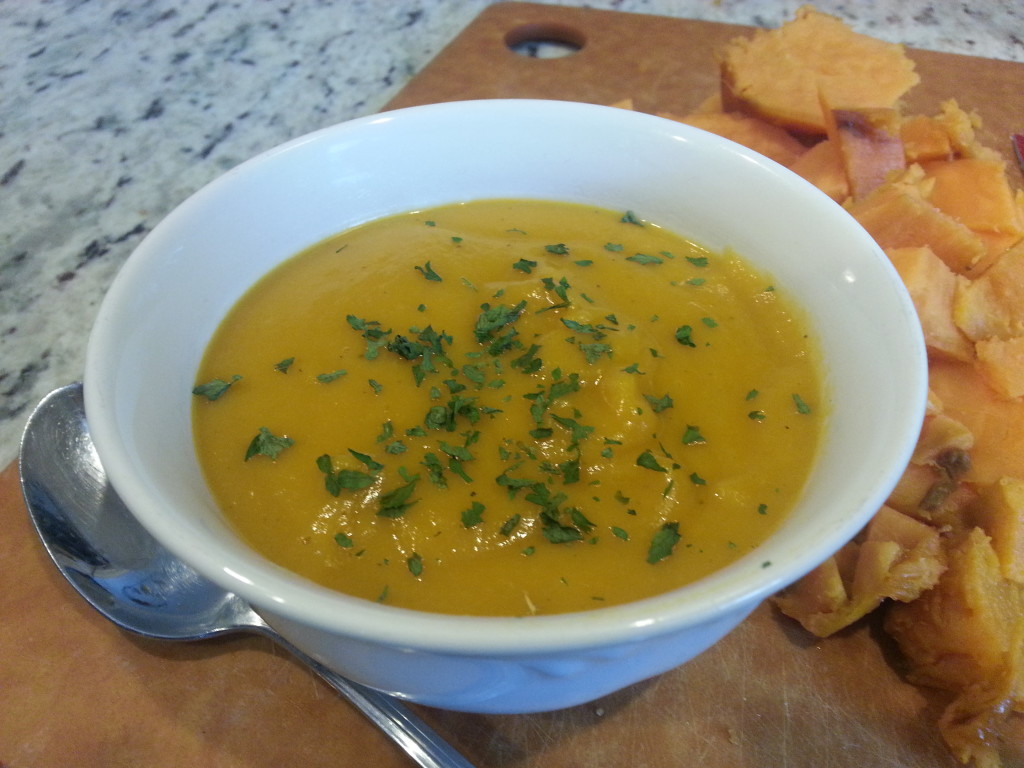 If you're looking for a flavorful and easy meal – or a nutrient-rich accompaniment to any meal – this rich and creamy sweet potato soup is sure to do the trick. With the sweetness from roasted sweet potatoes and a surprising little kick thanks to fresh ginger root, this takes very minimal prep time and will make you a batch big enough to last a week.
Okay, in my house it's more like a few days, but you get the idea.
It's also whole food and plant-based (vegan), Paleo (if you indulge in the tubers), and gluten-free for those with sensitivities. Sugar-free, Low-sodium, blah blah benefits, benefits, benefits, free this, free that… Basically, unless you're not into nightshades or onions or garlic, this recipe is perfect parts of magic for everyone.
Soups are so satisfying. It is the perfect meal if you're craving something savory and filling, but aren't a fan of feeling weighed down after eating. Plus, soups like this are incredibly inexpensive to put together. If you're a single college student or a part of a monster household, it's a lot of bang for your buck – financially and nutritionally.
There is virtually no fat in this recipe, it's high fiber, and drowning in beneficial nutrients to make your mind and body all kinds of happy. You can eat it alone, aside a sandwich, aside a salad, with sprouts on top, as a different kind of salad dressing, tossed with other veggies or pasta, or drink it warm out of a mug. Ver-soup-tility, for the win!
Enough talk. Recipe time!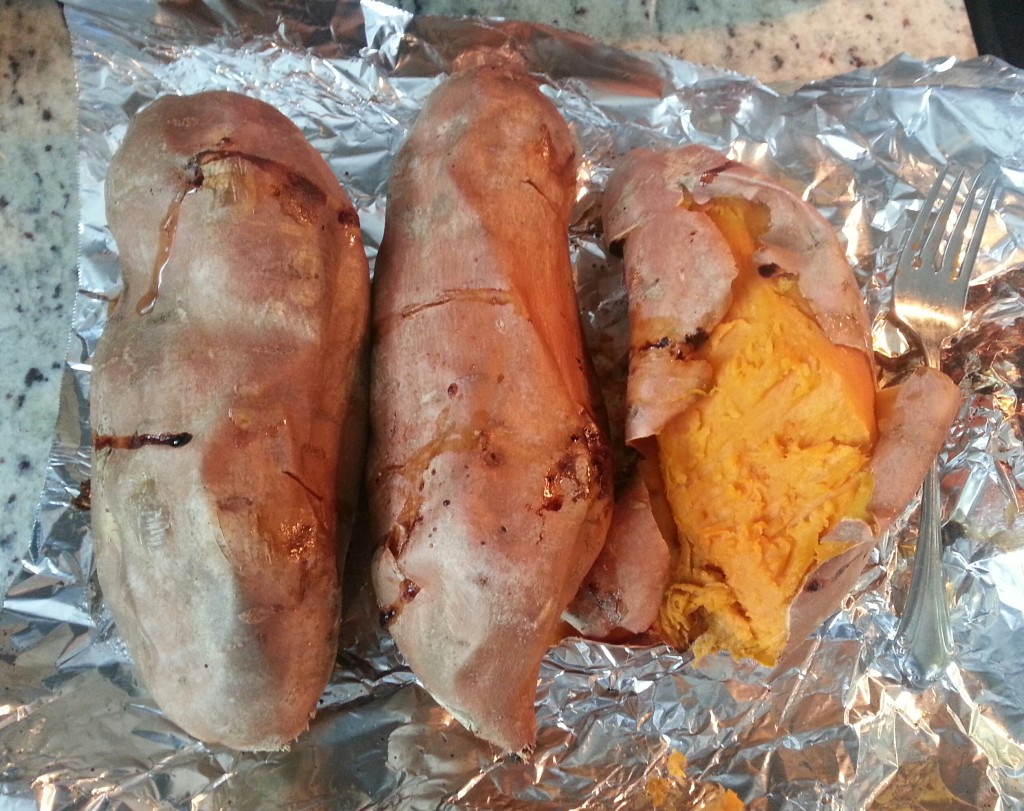 SUPER SWEET POTATO SOUP
Ingredients:
2 large sweet potatoes
Half a large sweet (yellow) onion, chopped
2 stalks celery, chopped
2 large carrots, chopped
2-3 garlic cloves, minced
2 inches fresh ginger root, peeled and minced
1 Tbsp Extra Virgin Coconut Oil
1 cinnamon stick, broken in half (optional, but recommended! Use 1/4 teaspoon ground cinnamon otherwise)
1 carton (4 cups) low-sodium, organic vegetable or chicken stock
Salt & Pepper, to taste
Additional water, if needed
Preheat oven to 425 F. Scrub potatoes and poke holes on top of each with a fork. Place on a tin-foiled cookie sheet or baking dish and place in oven for about 45 minutes or until knife tender and syrup begins bubbling through fork holes.
While the potatoes are in the oven, heat a large saute pan on the stove at about medium to medium-high heat.  Warm & melt coconut oil. Add in onion, celery, carrots, and ginger, and stir to mix and coat in oil. Add some salt & pepper.
Once onions are translucent and carrots and celery soften, add in garlic and saute a couple of more minutes (don't let garlic get burned or too dark, it will result in a bitter taste). Add in about one cup of the vegetable or chicken stock and the cinnamon stick or ground cinnamon. Turn heat down to medium-low and let simmer. Add a little bit more salt & pepper.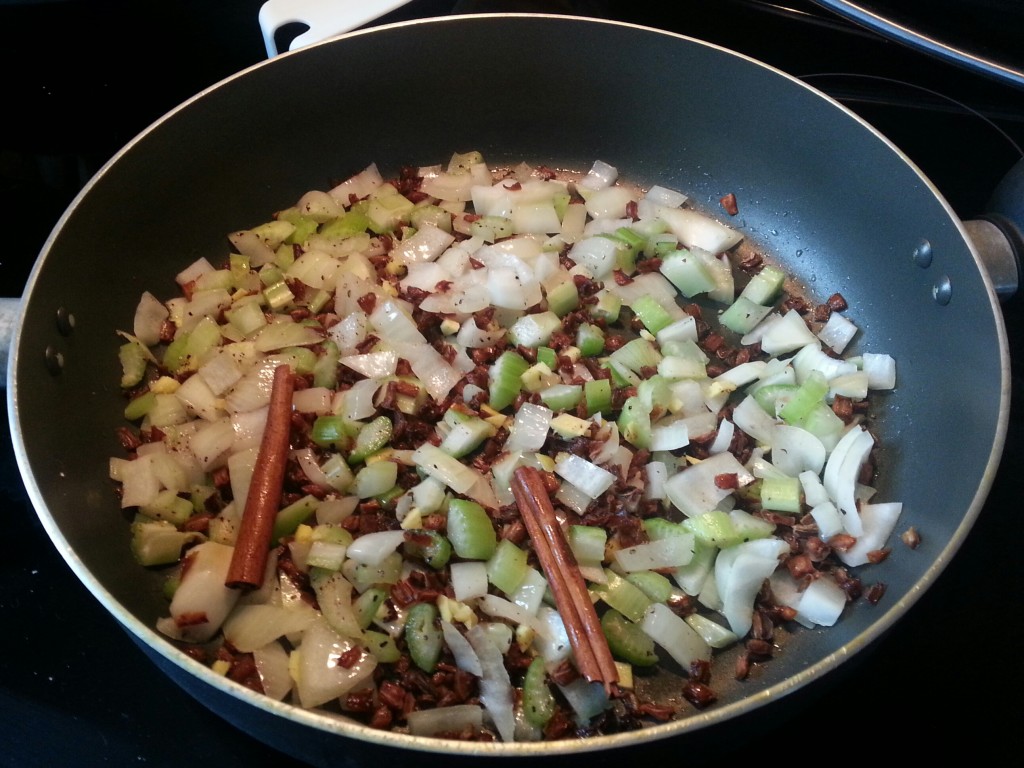 By this time, the 'taters should be done in the oven. Take them out and let them cool a bit. Carefully cut a slit through the skin to help them cool down faster. Once they're cool enough to handle, remove the skin and chop roughly.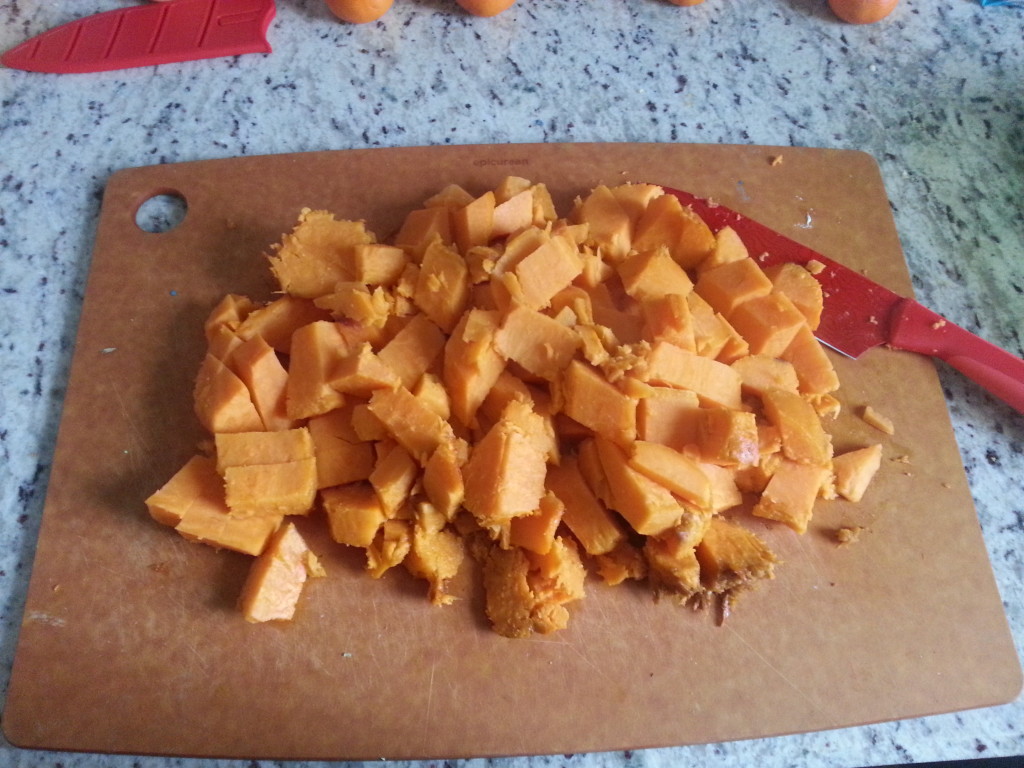 Add the potatoes to the saute pan and pour in the rest of the vegetable or chicken stock. Bring the mixture back up to a simmer and cover. Let simmer for about 5-6 minutes. If you have a potato masher, you can also gently mash them up in the saute pan. Add a little bit of salt & pepper.
Remove the cinnamon sticks and transfer the almost-soup from the saute pan into a high speed blender or food processor, and blend until smooth, about 2 minutes. Add water until consistency you like is reached.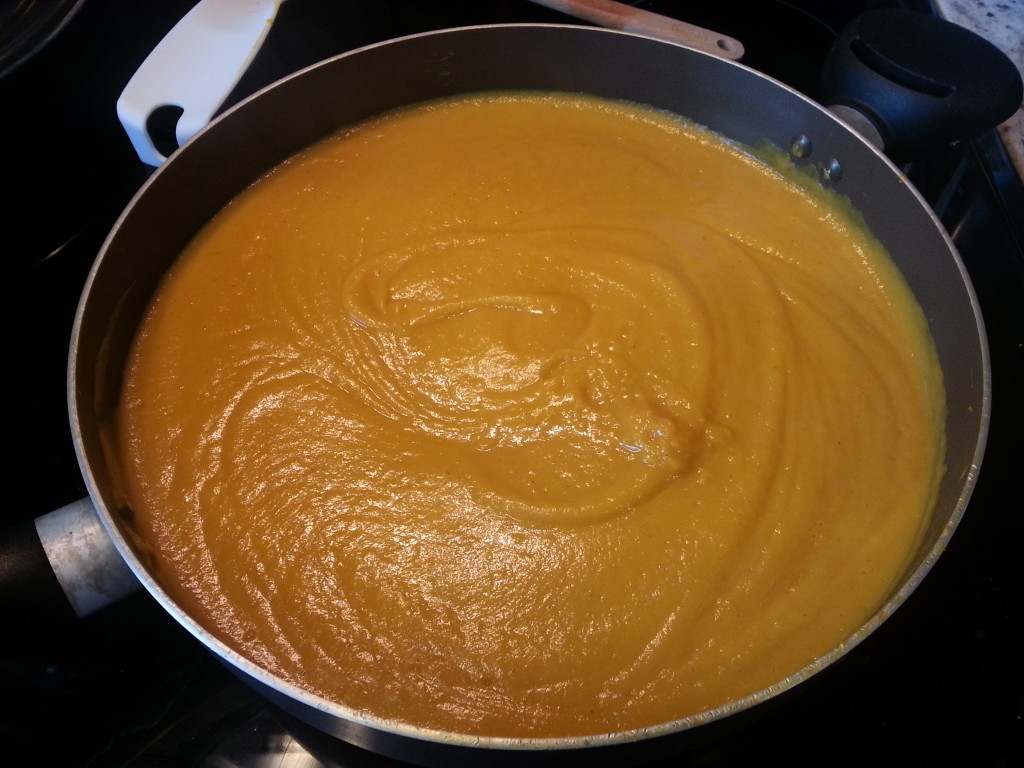 If you're not eating it right away, pour the soup into containers and let cool before refrigerating. Otherwise, pour the now smooth-n-creamy soup back into the sauce pan and let simmer a couple of minutes before serving. Hint: It's great with broccoli sprouts and/or sliced almonds on top.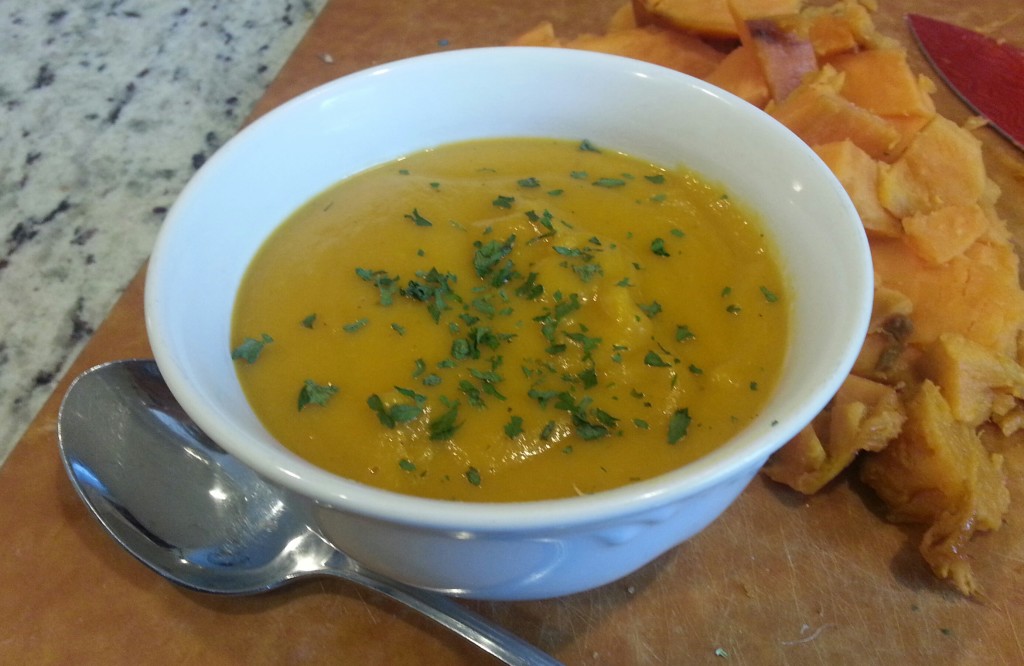 ENJOY!