This dish has been a legit staple in my household for a long time now and, even still, I find myself craving it almost daily.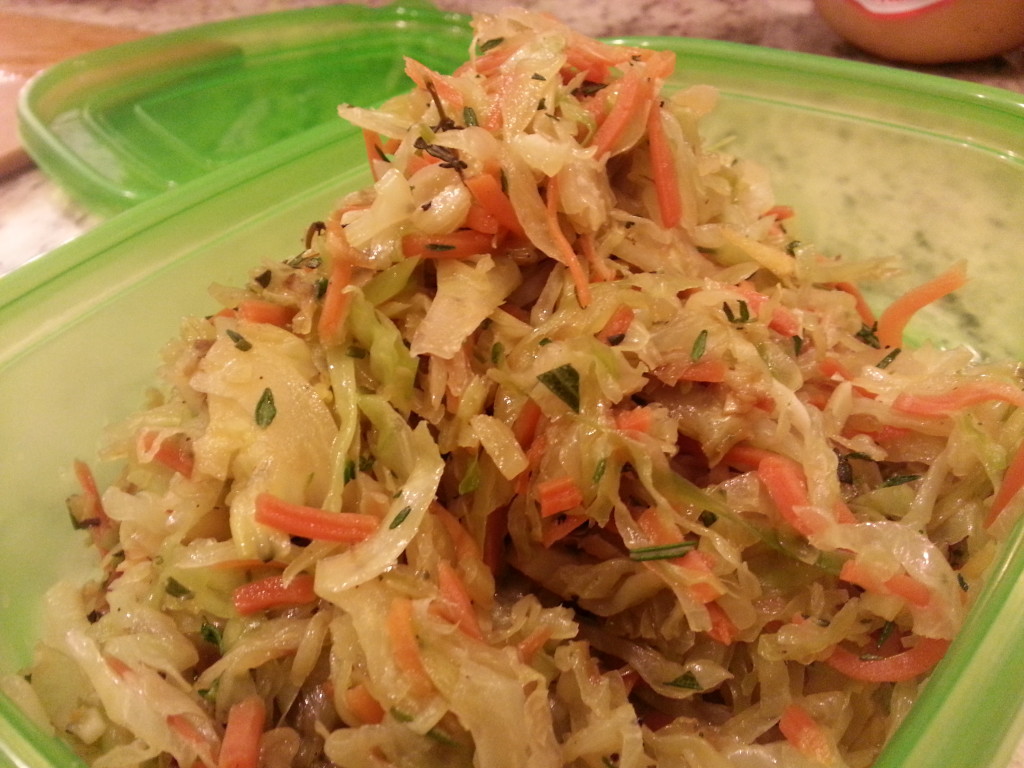 I even included this as a bonus recipe in my latest book, The Grocery Store Tour Guide & Nutritional Workbook (which will be available in just one week… and I am super excited about sharing with you all)!
Before I get into this insanely easy and flavorful recipe, here's a little bit more about the 70-page Grocery Store Tour Guide & Nutritional Workbook. This beautifully designed, visual book contains a plethora of useful information, including:
Shopping preparation tips
Explanations about supermarket psychology
How to identify and define misleading label claims
Tidbits about nutritional lingo and regulated terms, such as GMO, Certified Organic, Gluten Free, etc.
Food storage and safety tips
A thorough seasonal produce chart
Aisle-by-aisle tips to navigate the supermarket like a health-conscious pro
A list of ingredients to avoid
My personal kitchen essentials
Easy Meal and snack recipes
A post-tour quiz (if you are a trainer or nutrition coach, this e-book is great to use with clients!)
Much, much more…
Plus, unlike my print-only book – The Holistic Fitness Starter Guide – which will be available at the end of the month, I decided to publish The Grocery Store Tour Guide in print and as a quickly accessible e-book. This means that as soon as you buy it here, you will be able to download it to your PC, laptop, or tablet immediately and begin reading while you wait for the printed copy to arrive!

How cool is that?!
Now, as exciting as this new book is, back to the deliciousness that is My Universal Side Dish. First of all, it's crazy simple to make since we are using pre-shredded cabbage and carrots. The only chopping involves the fresh herbs, ginger, and garlic (unless you have minced ginger and garlic in jars, in which case, this may be the easiest recipe ever).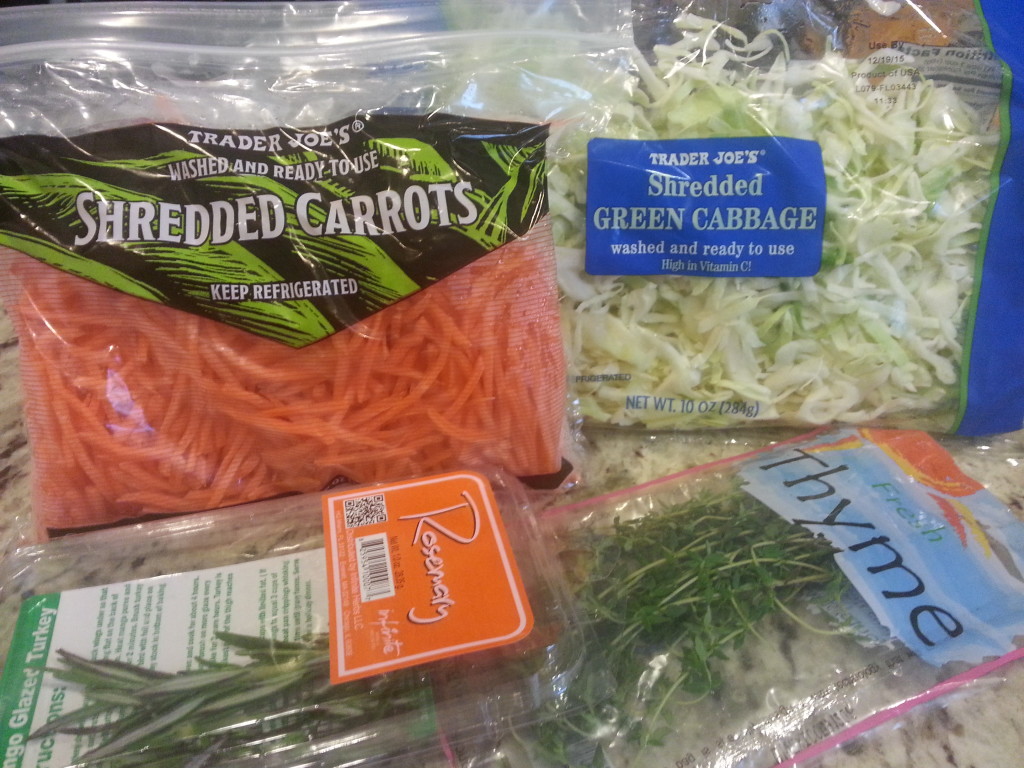 This is also so incredibly flavorful thanks to the fresh Rosemary and Thyme. Sometimes, I'll add in fresh basil or sage and it becomes a bigger explosion of flavor in your mouth.
As I mention in The Grocery Store Tour Guide & Nutritional Workbook, this side dish goes well with nearly everything. On salads, sandwiches, in wraps, or by itself. It's fast to whip up and perfect to keep ready-handed in the fridge. One of my favorite ways is wrapped up in rice paper wraps with some thin rice noodles.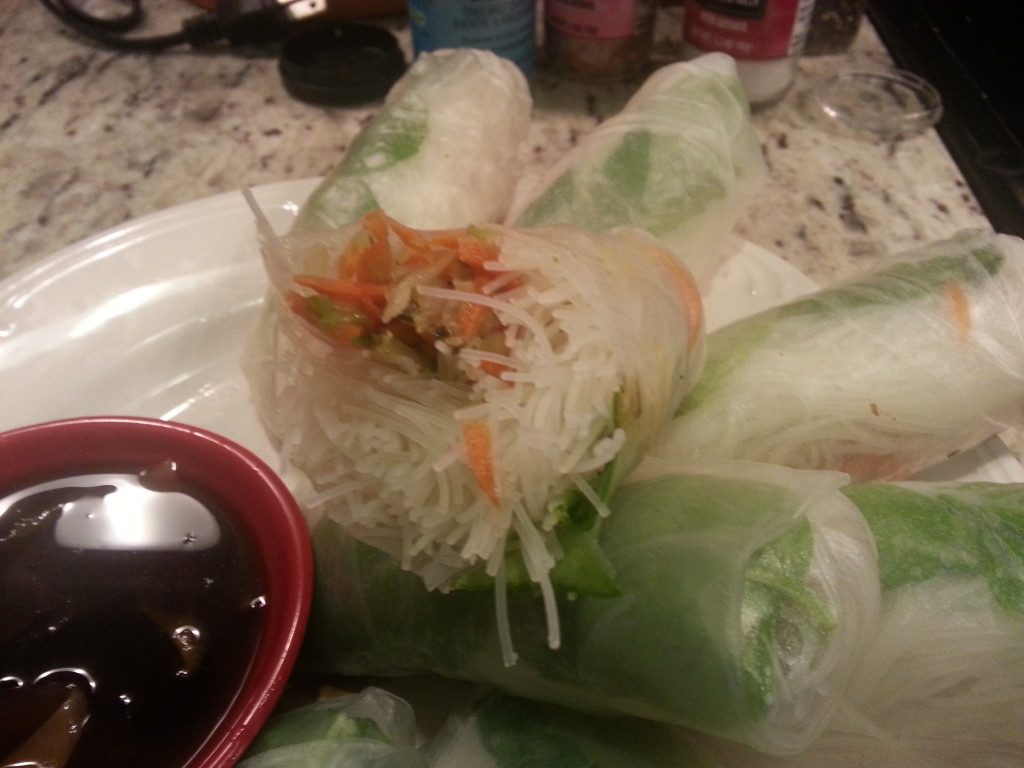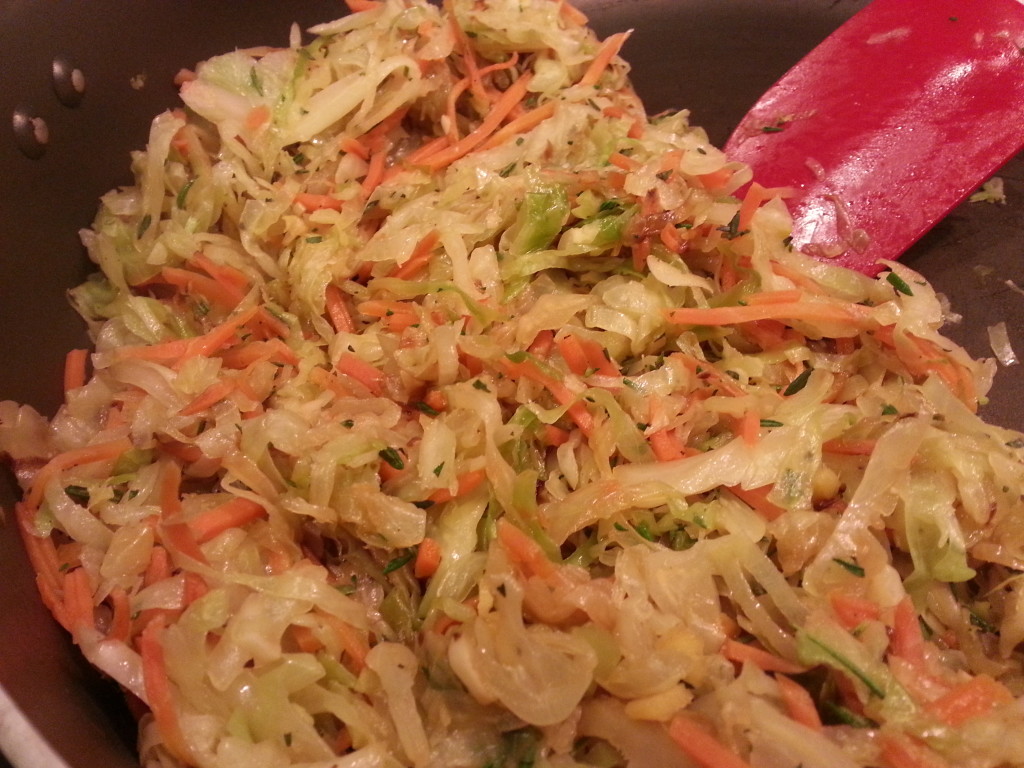 Give this recipe a try. I promise you will be happy you did!
---
MY UNIVERSAL SIDE DISH: SAUTéED CABBAGE AND CARROTS
Ingredients:
2 (10-16 oz.) bags of Shredded Cabbage
½ of one (10-12 oz.) bag of Shredded Carrots
1 Tbsp. fresh Rosemary (leaves from about three 4" sprigs), chopped
1 Tbsp. fresh Thyme (leaves from about 5 4" sprigs), chopped
1-2 inches of fresh ginger root, peeled and minced
2 garlic cloves, minced
1 Tbsp. Coconut Oil
Salt & Pepper to taste
Directions (photos below):
Heat a large sauté pan or wok on the stove at medium to medium-high heat and place coconut oil in the pan.
Once the coconut oil is melted, add ½ bag of carrots and two bags of cabbage. Sprinkle minced ginger on top and season the surface with salt and pepper. Cover to let cook down about 5-7 minutes. (The pan may seem really full, but the veggies cook down quite a bit.)
Remove lid and toss the cabbage and carrots to encourage even wilting/cooking. Cover and let continue softening for another 3-5 minutes.
Remove lid and add rosemary, thyme, and minced garlic. Toss well until all the herbs are well incorporated into the mix. (If the veggies seem to be browning from the bottom of the pan, lower the heat a little bit.)
Continue cooking, tossing occasionally, until veggies are softened and cooked down to a little less than half of the original volume. Add more salt to taste, if needed.
Enjoy in any which way!