This is one of my go-to recipes when it comes to last minute requests for dessert, which is exactly what happened on Christmas this year. I was asked to bring a dessert the night before the big day – well after all the grocery stores were closed. Seeing as I normally have all of the ingredients on hand that are needed to put this Pumpkin Cheesecake together, it was easy breezy.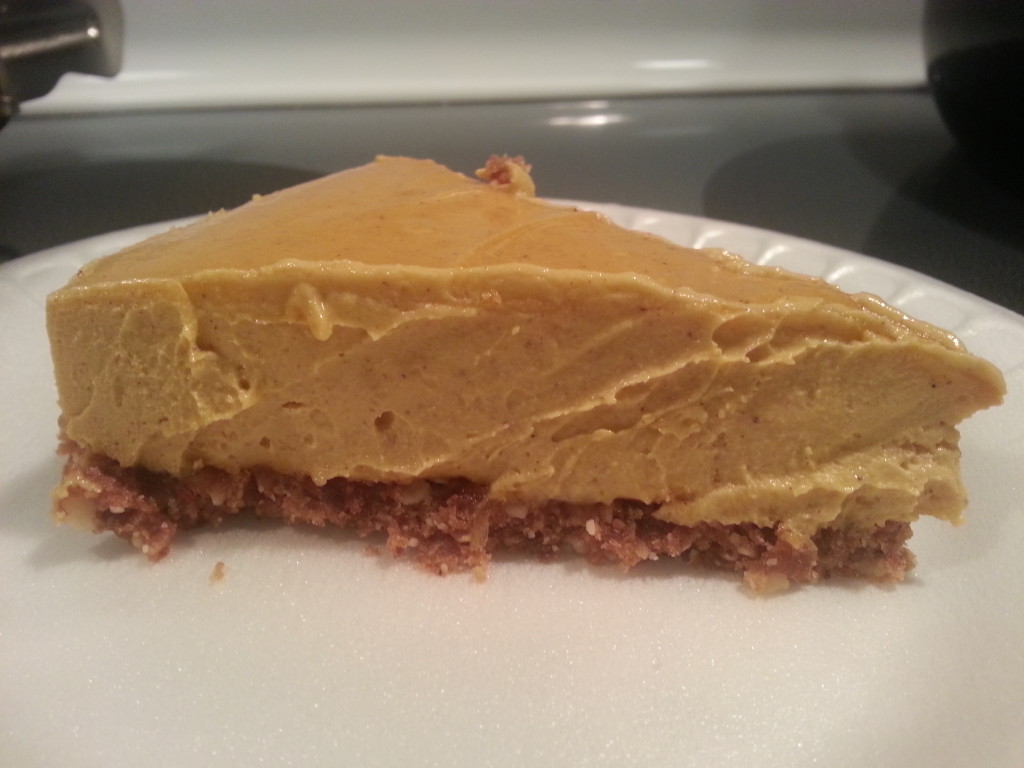 This dessert turns out super rich, indulgent, creamy, and cheesecake-y… despite not having any dairy whatsoever. Unless you let everyone know this is a plant-based dish, no one will guess that cashews are the "cheese" up in this cake. Not to mention, there are virtually no dirty dishes, give or take a few measuring utensils, because everything goes straight into the blender with no bowls or mixing necessary. It's also fast to prepare since all you do is blend for a couple of minutes until it becomes nice and creamy.
The hard part is the waiting time for this to set, which still isn't even that bad at only an hour or two.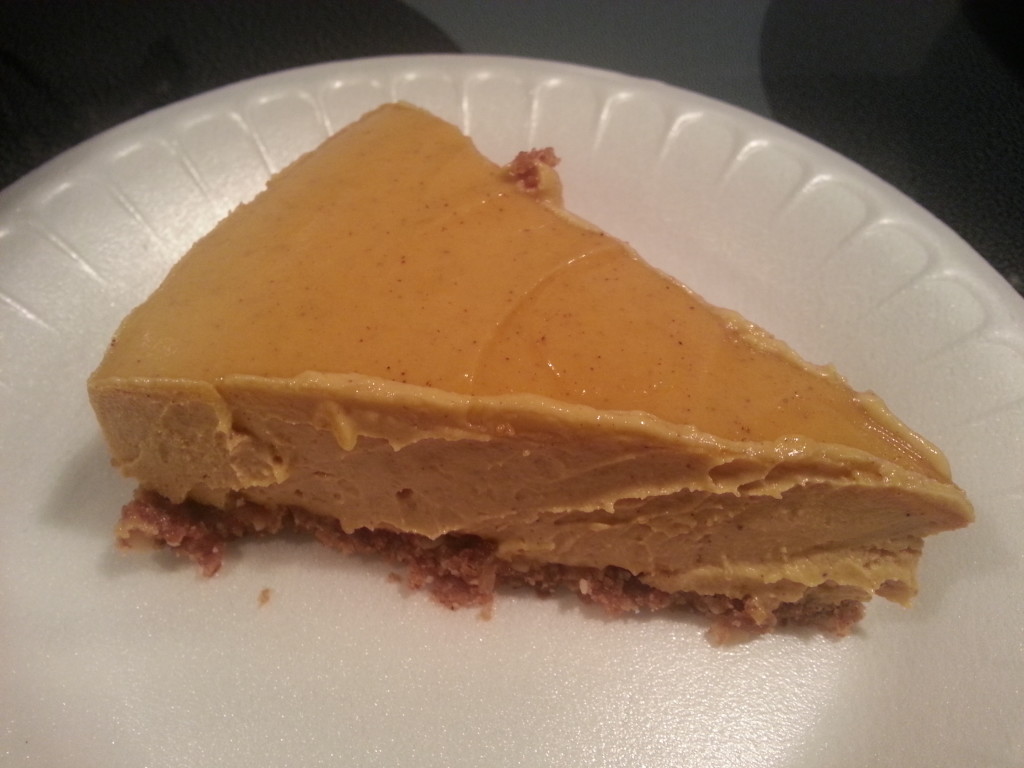 All that said, it's important to remember this is still an indulgent dessert. Just because it is made with more nutritious and quality ingredients than any store bought (or even traditionally made) cheesecake, doesn't mean it's a free-for-all to have a handful of giant slices and nudge it off as okay since it's "healthy". I mention this because whenever I concoct any food things – whether it is a main dish, appetizer, dessert, drink, anything – I noticed many people assume it is a "healthier" or "lighter" version and, therefore, it's okay to overindulge. This isn't the case, as the macro-nutrients (namely, fat and sugar) do still add up which means that sometimes my versions aren't necessarily lower-calorie versions. They're just better quality options than others.
Treat any dessert like dessert, and any main dish as a main dish. Eat until your just about satisfied and avoid stuffing yourself. Treat this Pumpkin Cheesecake like you'd treat any special dessert or high-fat-high-sugar treat. (Hint: That means it may be best for your waistline to keep this recipe in your arsenal for potlucks or special date nights. Once you taste it, you'll see why… It's really freaking good and tough not to eat the whole thing yourself!)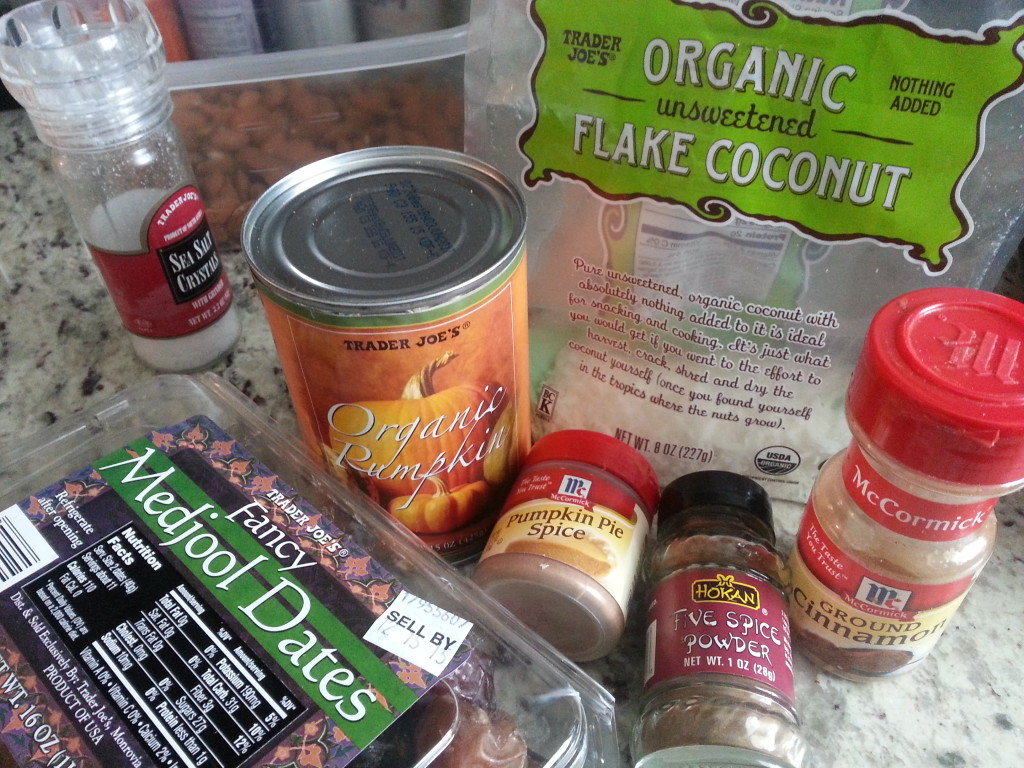 Now, get to makin'… and make sure you enjoy each bite!
EASY, DELICIOUS PUMPKIN CHEESECAKE
For the filling:
2 cups raw cashews (soaked in cool water overnight, or use boiled water and quick-soak for an hour)
½ cup 100% pumpkin puree
¼ cup coconut oil
Juice from one lemon (about 3 Tbsp)
1 tsp pure vanilla extract
¾ cup pure maple syrup
1 tsp. pumpkin pie spice
¼ tsp. ground cinnamon
Scant ¼ tsp. ground ginger
A good pinch of salt

⅛

tsp. Chinese five-spice powder *this is my secret addition for pumpkin pie, too! Adds a touch of special!

Optional: ¼ cup unsweetened coconut flakes, toasted (to sprinkle on top when serving)
Place all of the above ingredients (except coconut flakes) in a blender or food processor and blend until smooth.
Pour the creamy filling into a prepared graham-style pie crust, or into a raw crust (recipe below).
Place in the freezer for ~2 hours or until solid.
To serve, remove from freezer and let thaw enough to cut through (about 20 minutes before serving). To avoid the cheesecake from getting too soft, don't leave out for more than an hour and keep any uneaten portion stored in freezer (it may get too soft in fridge). This will easily keep in the freezer for up to a month, I imagine… Though it's never lasted more than a week at my house!
ENJOY! :)
NO-BAKE, RAW PIE CRUST RECIPE
1 cup raw almonds (or 1 1/4 cup almond flour) *Pecans would be great, too!
1 cup of packed, pitted Medjool dates (about 15 medium sized dates)
A good pinch of salt
1/8 tsp ground cinnamon
1/16 tsp ground ginger
Needed: A spring form pan, if possible, Otherwise a pie dish or even 8×8 baking dish works.
If using a spring form pan, line the bottom with parchment or wax paper (and cut into a circle).
If using whole almonds, place them in a food processor and grind until it becomes a coarse flour (photo below). *If you're using the almond flour, skip to next step.
Remove ground almonds from food processor and set aside in a bowl.
Place dates in food processor and process until they soften and one big sticky ball forms (photo below).
Add ground almonds back in with salt, cinnamon, and ginger, and continue processing until the texture becomes small crumbles that easily stick together when you press them between your fingers.
Pour the crust mixture into the spring form pan (or pie dish, or baking dish), and press down with your fingers until it covers the entire area (photo below). *Wet your fingers with a little bit of water if you find it's too sticky.
Pour in your favorite pie filling (like the Pumpkin Cheesecake above) and you're good to go!
Line your spring form pan…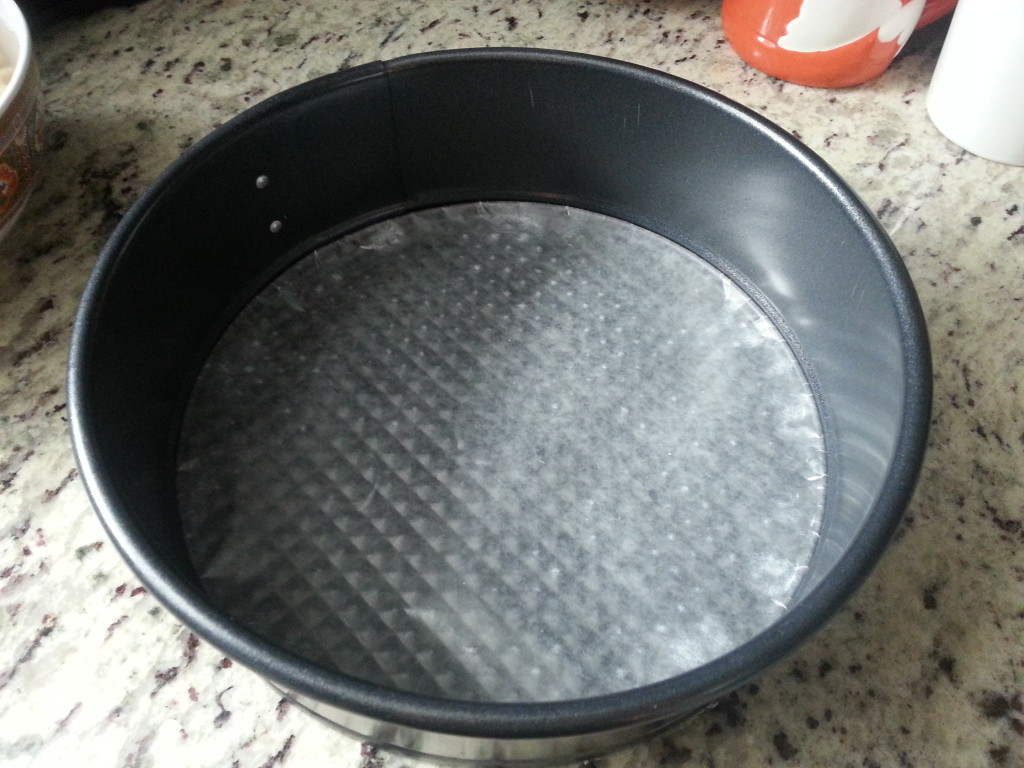 Grind up those almonds…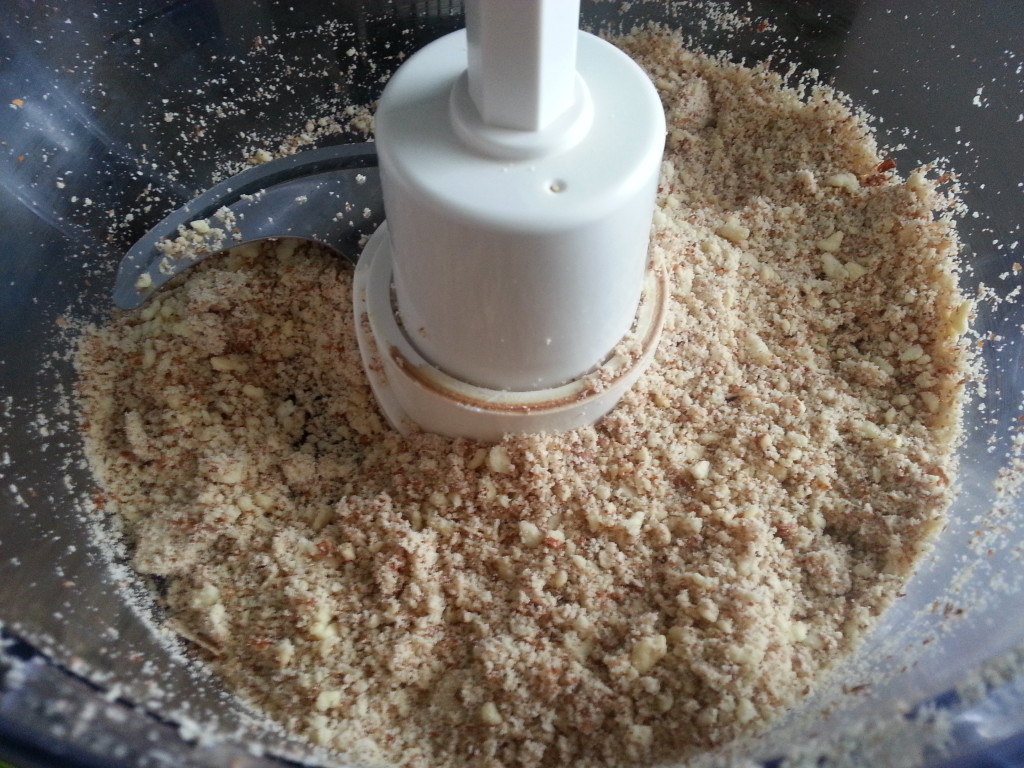 Process the dates until a ball forms…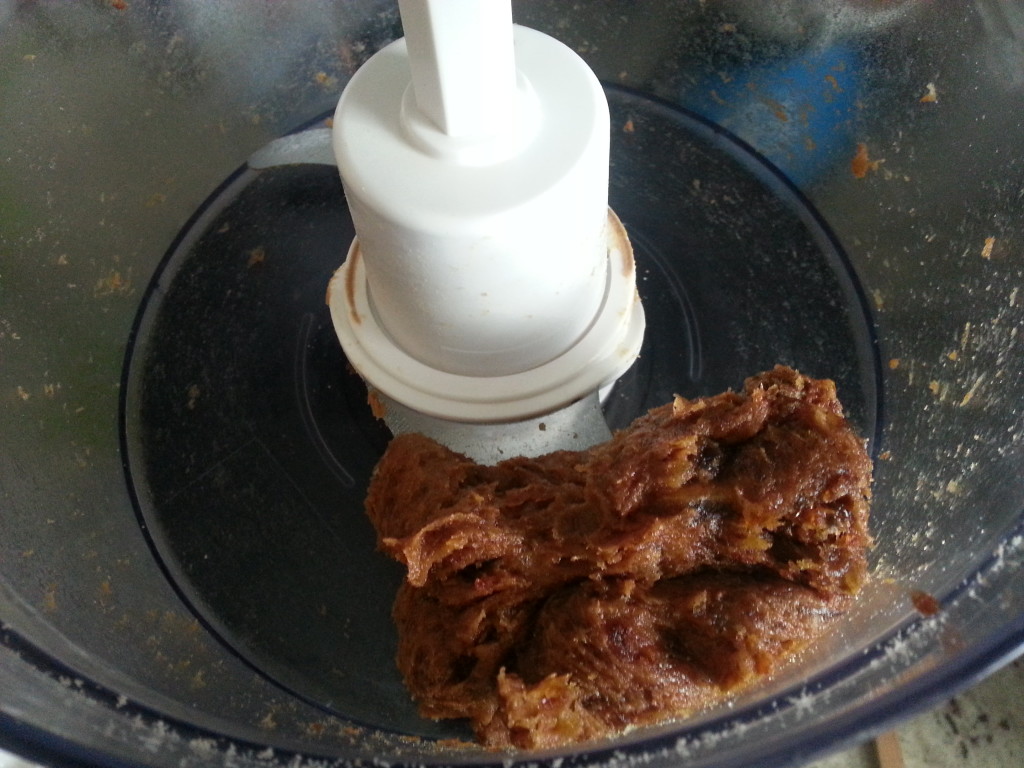 Add ground almonds back in and process to reach this consistency…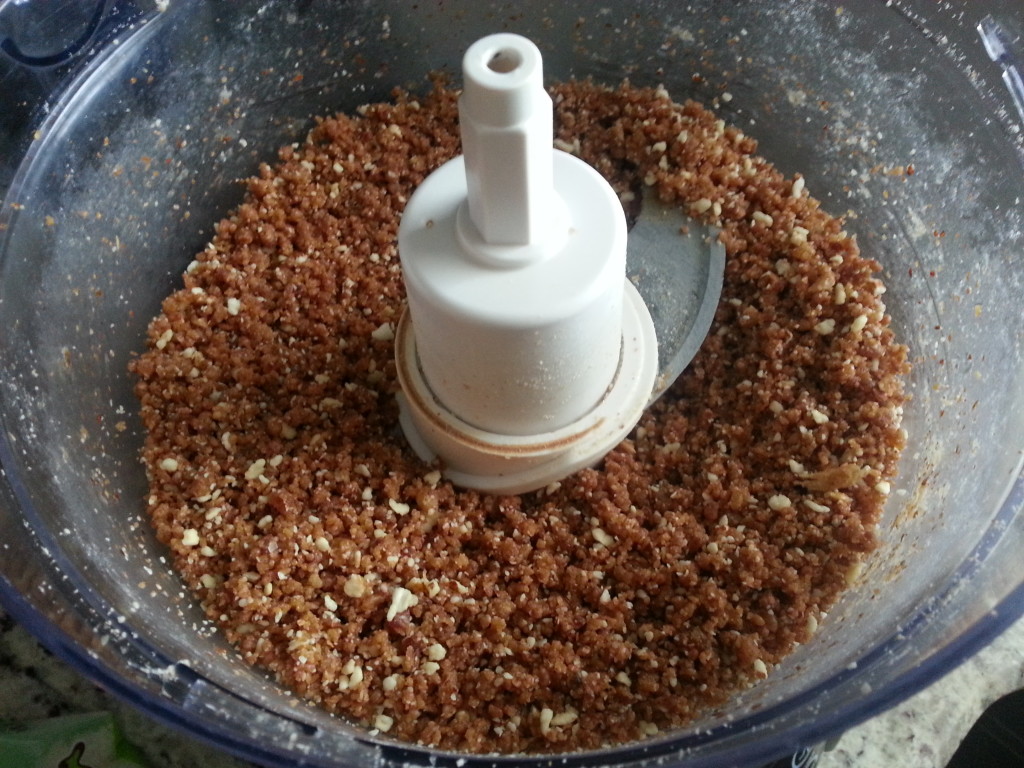 Press crust into bottom of pan…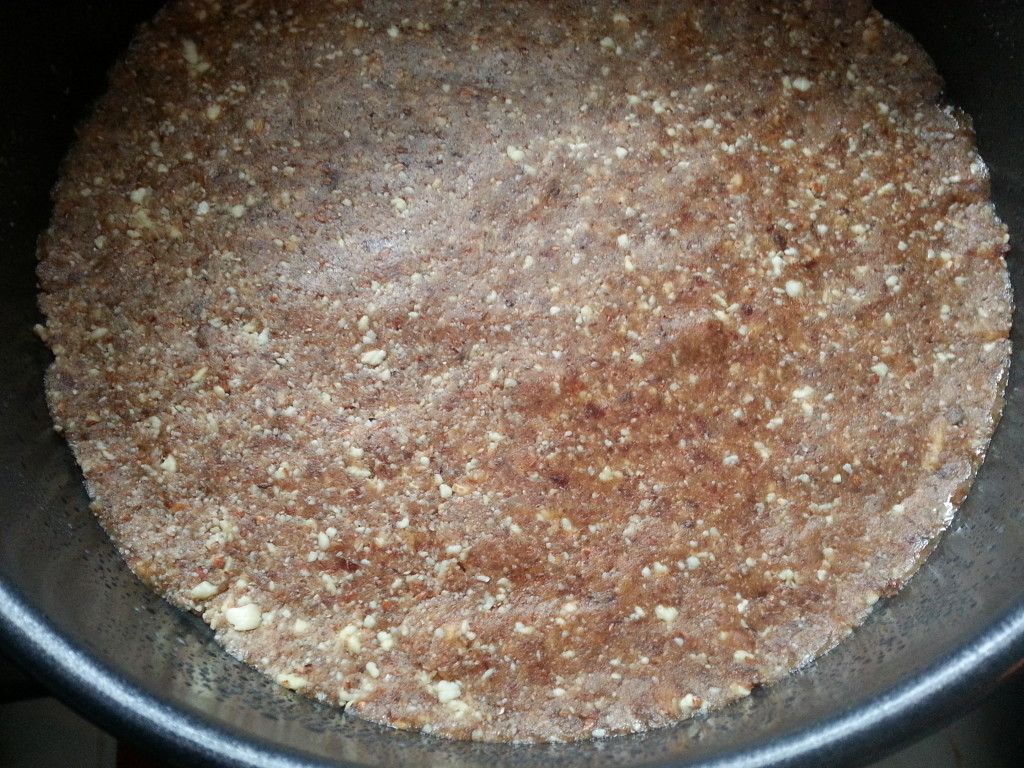 Pour in the pumpkin cheesecake filling and smooth with the back of a spatula…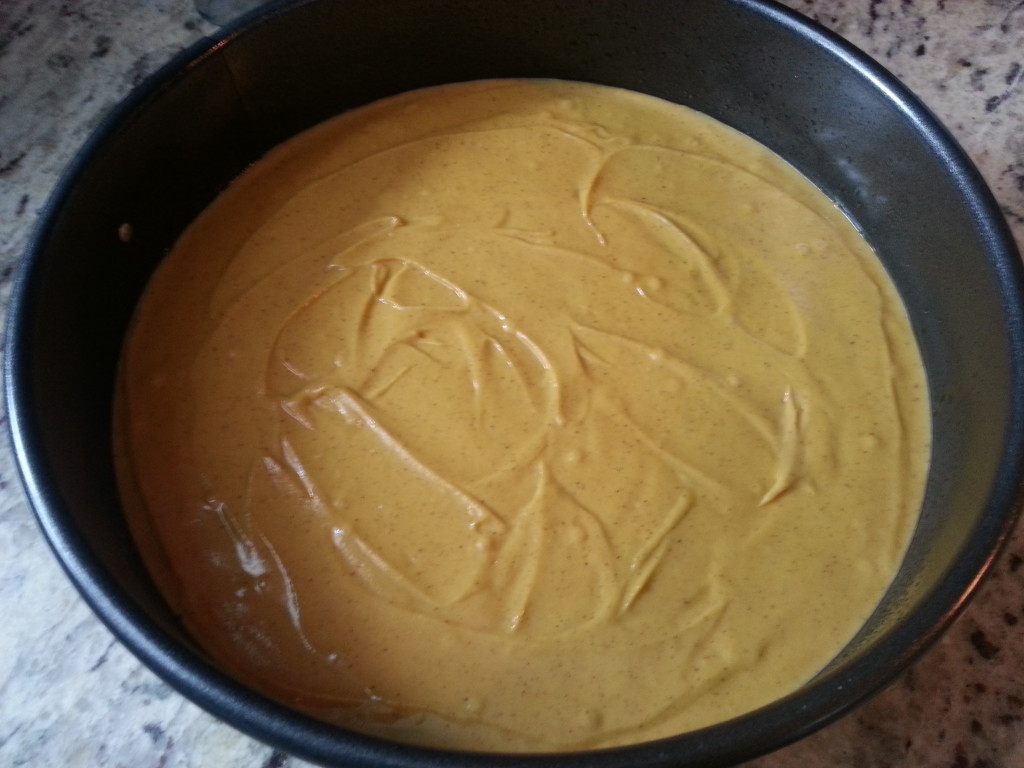 let set, cut, serve, and enjoy! :)