This is one of my GO-TO recipes for the easiest, most delicious, minimal-ingredient Banana Pancakes ever…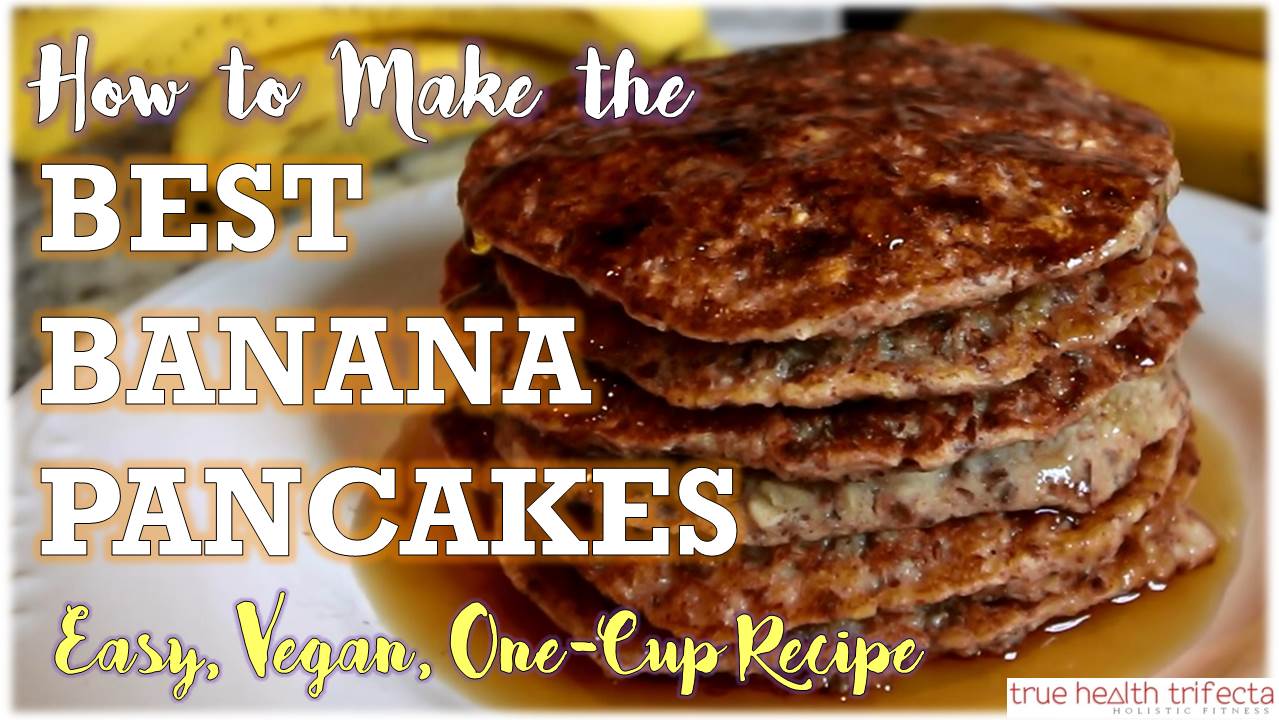 I have this almost every morning with my "moon egg" (if you don't know what I'm talking about, check out this video: https://youtu.be/pNkGUw9HPNE).
These Banana Pancakes are not only moist and delicious, but also happen to be vegan, gluten free, and sugar free (for you fans of the "free's" out there) while being very fiber- and nutrient-rich. Not to mention, crazy flavorful!
WATCH THE VIDEO HERE, FULL RECIPE IS BELOW:

SINGLE-SERVING BANANA PANCAKES
Ingredients:
A Splash of Apple Cider Vinegar (about 2 tsp.)
½ cup Unsweetened Almond Milk to start (have more on hand to get batter consistency)
A small splash of Pure Vanilla Extract (about ½ tsp.)
4-5 drops of Liquid Stevia (to taste)
½ of One Large, Ripe Banana (make sure it is spotty with brown and NOT green or all yellow)
1 Tbsp. Chia or Flaxseeds (or one packet of this Flax Chia Blend by Carrington Farms)
½ cup Quick Cooking Oats, pulsed in a blender or food processor to be semi-ground
½ tsp. Baking Powder
Generous sprinkle of Ground Cinnamon
A pinch of salt
DIRECTIONS
Get out a 2-cup Liquid measuring cup, like this one I use in the video and a mini-spatula or fork. Put all of the liquid ingredients in the measuring cup (measuring as you go), stir, and let sit for a few minutes.
Take half of the banana and break it apart with your fingers as you add to the liquid ingredients. Then take a fork and mash/mix it in until larger chunks are gone.
Add in all dry ingredients, mixing well. Add more almond milk (typically

¼

to

⅓

of a cup) until it is more of a moderate batter consistency – not too thin, but not thick. Allow the batter to thicken by letting it sit ~5-10 minutes.
Preheat stove top to medium heat (I typically go to level 4). Once pan is heated, spray pan with coconut oil spray. Give batter a quick stir and pour in about

¼

cup per pancake.
Set a timer for 3 minutes, then flip. Pancakes should be a light golden brown. Let other side cook another 3 minutes.
This makes 4-6 pancakes depending on your size. I like to pour a little maple syrup on the side and dip them, but you can also stack 'em up pretty and pour maple syrup on top! Feel free to slice up the other half of your banana to top them off, too!
ENJOY (I know you will… they're amazing) :)
---
Find more recipes and smart food-shopping tips in my Grocery Store Tour Guide!