What people are saying about Jasmin and True Health Trifecta Holistic Fitness:

Hey Jasmin, I just wanted to thank you for helping me get in shape this semester! On the left was me during winter break and on the right was me a week ago! You have been keeping me so motivated! Thank you!  – A.T. , Rollins College Student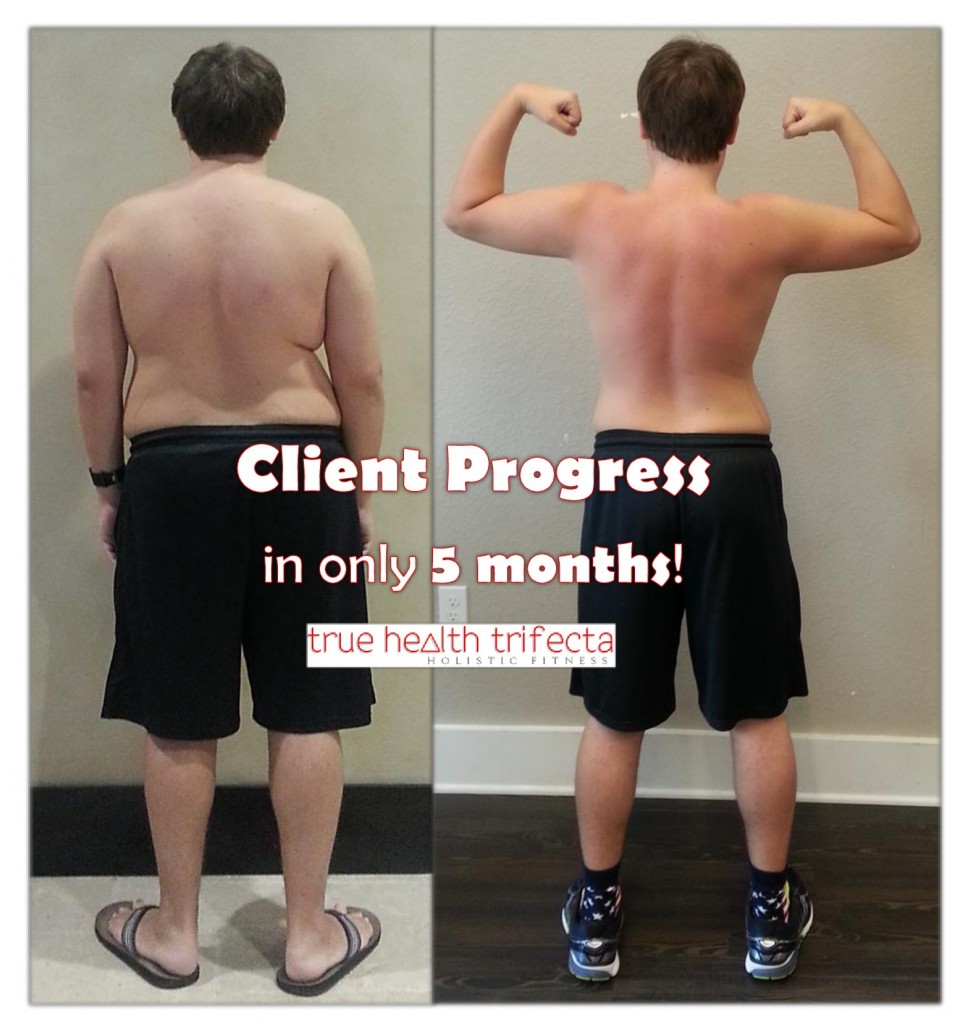 Jasmin is one of the most inspiring, compassionate and creative professionals I have met. She has provided me with the tools and tips needed to initiate positive changes in my life both professionally and personally. You will not be disappointed in the progress and results you will achieve when working with Ms. Bedria!
– Heidi Simos, Marketing Director at Seminole Pointe Group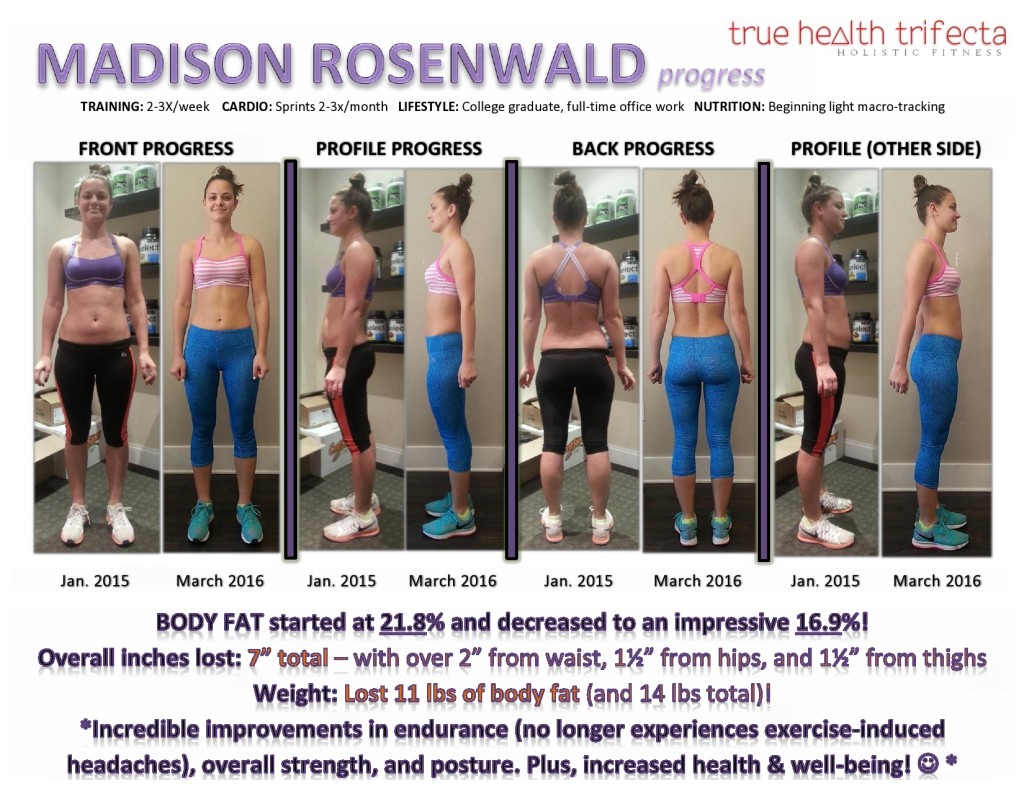 Before I met Jasmin I was languishing in my middle age body. Growing larger and more discontent every day, knowing something must change but not sure how. I decided to invest in myself and hire a trainer for accountability. Voila, I met Jasmin. Jasmin set me on a course of health. Slowly and non-condescendingly as I opened the door to discussing food she would make suggestions to better choices. Not once did she make me feel pressured or belittled into doing things I didn't want to do. She would simply offer the suggestion with the information as to why it would be a good choice and leave it that. As far as our workouts, she is thorough in working out the entire body. She is very creative in her workouts and keeps things interesting and progressive. In 5 months I have lost several inches. With that I am also stronger and have much more endurance. I just ran 2.5 miles yesterday when 5 months ago I could not even run 100 feet. I am able to lift weights and do things I haven't been able to do in years. Jasmin is smart, attentive, and committed. I am so glad to be able to work with her!     – Theresa N., Financial Director

I started seeing Jasmin as a 22 year old senior in college because I felt like I was heading down an unhealthy path, one of no exercise and a fattening diet.  I have never been fond of working out, and when I tried, I got bored and barely knew how to use the equipment in a gym.  Jasmin not only has whipped me into shape, but she has educated me on daily diet.  I now know how to make healthy choices that keep me fit and strong during workouts.  The most valuable thing that Jasmin has shown me is that a lifestyle that includes regular physical activity feels amazing.  Because of Jasmin and her indispensable knowledge, I cannot imagine going back to my old lifestyle, and I will forever be a healthier person.
– Madison Rosenwald, Rollins College Graduate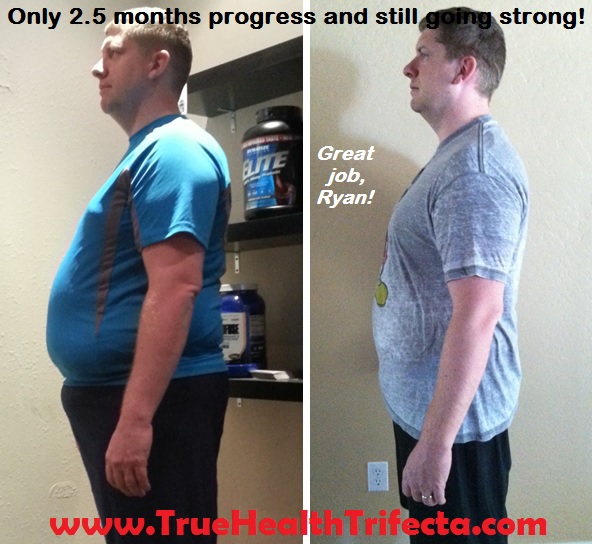 Prior to my time with Jasmin, I was no stranger to the peaks and valleys of diet and exercise. When I did go to the gym, I was limited by my lack of knowledge and set in a static routine. Jasmin not only gave me clear direction, but she motivated me to buck the trends I had grown accustomed to and try new methods of exercise. I was very nervous prior to our first session. However, my apprehensions were eased by Jasmin's ability to tow the delicate line between pushing me the brink and keeping me completely comfortable. She had an intuitive understanding of what I needed from day to day. After a short time under Jasmin's tutelage, I was not only loosing weight, but I was feeling generally better. I noticed an increase in stamina and strength, I was feeling a renewed energy during the daytime, and was learning healthy eating habits.

Apart from my own experience, I have been able to witness Jasmin as she works with other clients. I can personally attest to the fact that her passion and joy for her job is unrelenting. I have never seen her phone it in, as so many trainers tend to do. Each early morning is packed with enthusiasm and a vigor that is, from my perspective, miraculous! It is always apparent how much she cares for each client, and that shows in the results she continues to facilitate.

Not only will I continue to turn to Jasmin for my fitness and health needs, but I would be thrilled to tell any of my friends or family to do the same.
      – Chris Messeroff, Owner, MetroCreates.com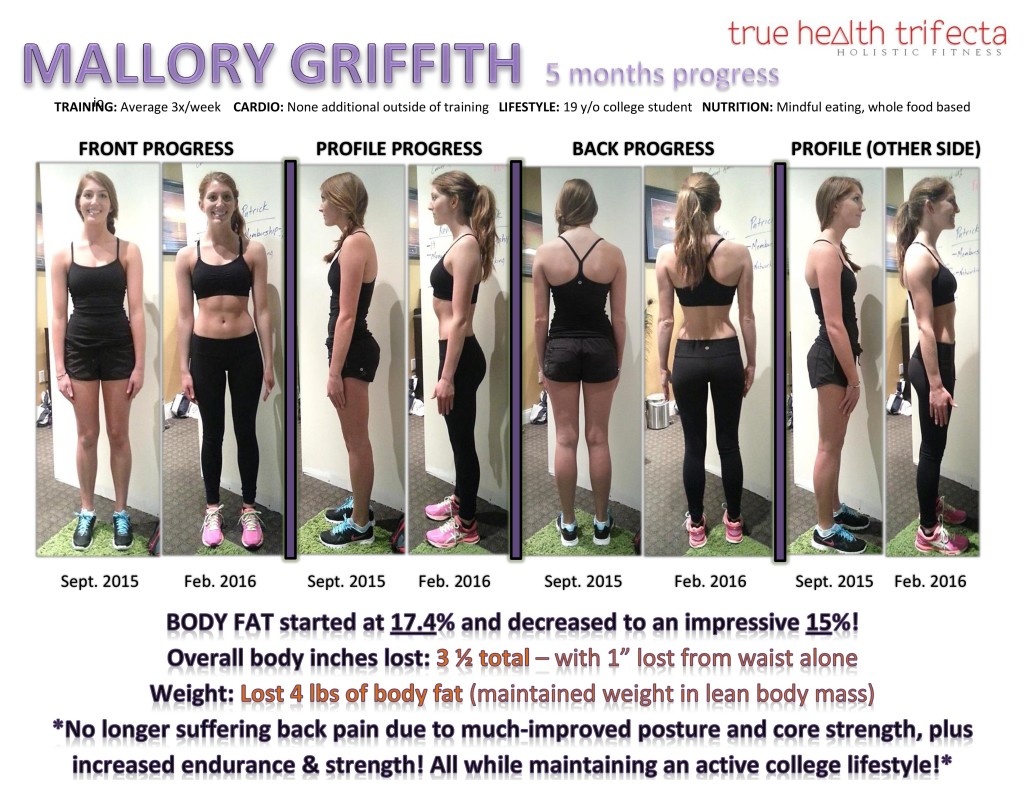 Jasmin is fantastic! First of all, I have to admit that I have always hated to exercise.  However, I genuinely looked forward to my workouts with Jasmin! It really changed my attitude towards physical fitness.  She was very patient with me, but also pushed me at the same time. She does such a great job of simultaneously motivating, supporting, and challenging her clients.  Additionally, you will definitely see results. After only a month of meeting with her, I could see and feel a difference. I just genuinely felt healthier.  I highly recommend her!   – Melissa Looney, College Professor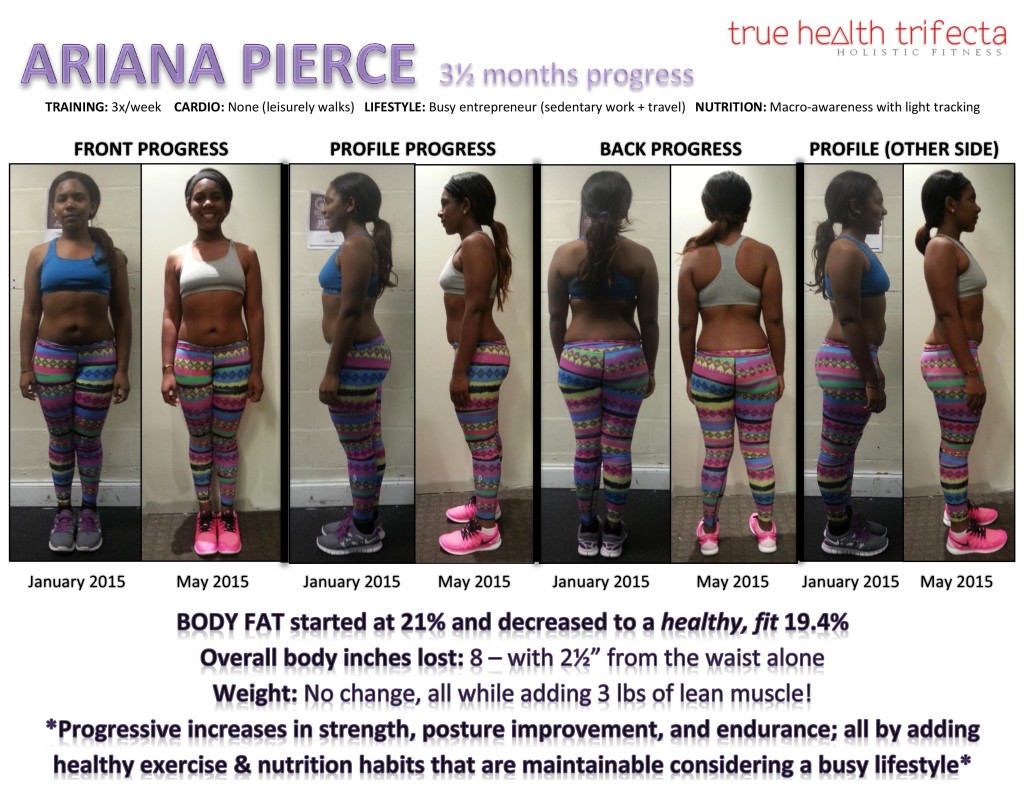 I had the pleasure of training with Jasmin for three months. I found that my experience with her was both challenging and informative. During my sessions, she was able to educate me on using proper form and technique during my workouts. I definitely noticed changes in my physique and strength, both of which were goals of mine that she brought to fruition. I highly recommend her to anyone who needs help achieving there own goals, no matter what your skill level.
– Jon Atnip, Business Owner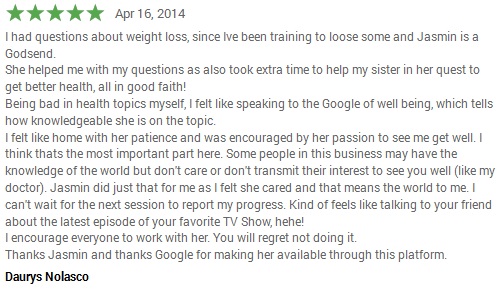 When I first came to Jasmin, I was tired, discouraged and had a medical support brace on my right knee, due to a bad fall. She started teaching me strength training and introduced me to Fish Oil and glucosamine chondroitin MSM. As I started feeling less tired and discouraged, I knew it was time to see my doctor about the medical treatment I had been avoiding for my knee. After a review of my MRI it was determined that my condition could be improved by physical therapy. Florida Hospital did the initial assessment of my knee. I turned to Jasmin for help, and she tailored my program to focus on my rehabilitation. My second visit to Florida Hospital (3 weeks later) showed a 60% improvement and my next visit (another 3 weeks) I was given a diagnosis of 100% improvement. Because of Jasmin's intense workout program, focused on my balance, muscle strength and positive reinforcement, I no longer walk with a brace and am able to do squats. ( I still don't like squats, but she has a way of making me want to do the best I can.) I know that, without Jasmin's help, I would not be as strong both physically and mentally as I am today.
– Sharon Crawley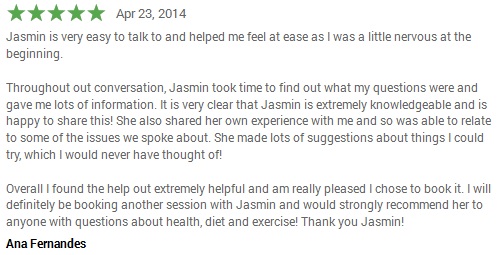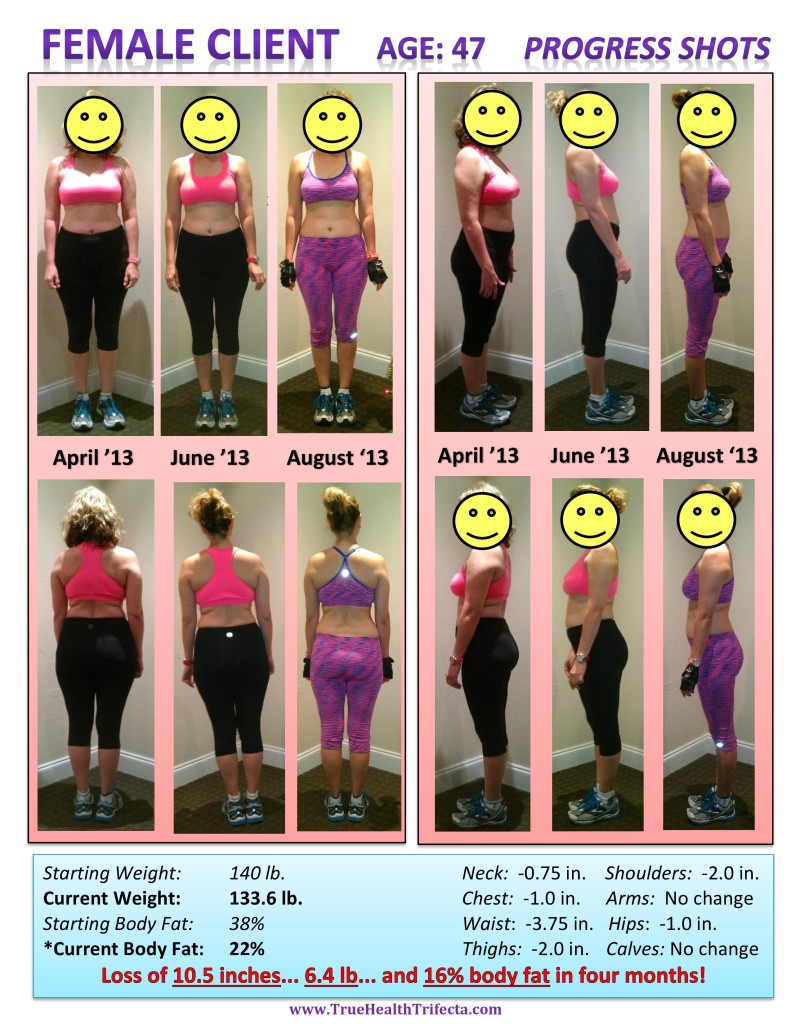 Before I started working out with Jasmin I was so tired, overweight not very happy about myself. In just about 2 months of working with her, I already started seeing great results. She always have something new and fun. She challenges me even when I don't believe in myself. Great coach!
– Ruthie Rogers, Dental Hygienist


I've known Jasmin many years as a friend, and I've seen her grow into the competent, accomplished holistic trainer that you see today. In the past year she has also worked with me professionally and inspired me immeasurably. It's like having your very own personal cheerleader, and coach. She genuinely cares about the change she is affecting in people's lives. I've lost 40 lbs since last July, and I feel great.
– Michelle Eaton, High School Teacher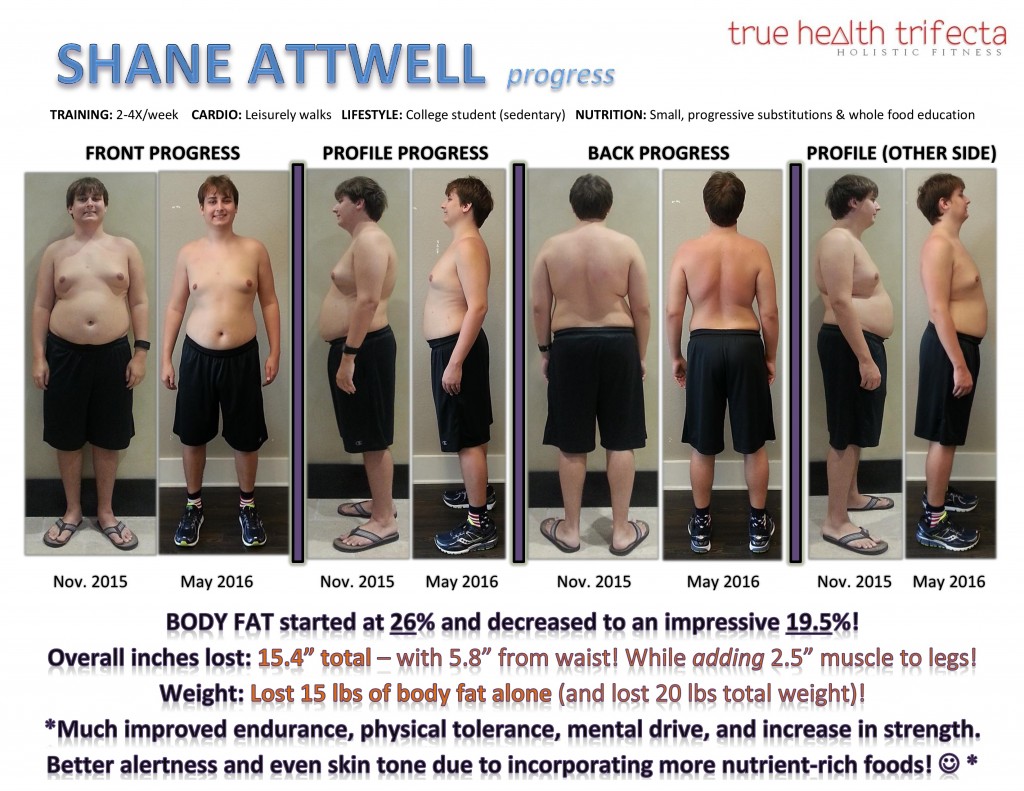 Having been in the military for a number of years and having felt I ate generally healthy, I never suspected that a change in my diet was in order. I didn't eat junk food, stayed away from fast food and rarely touched soda. I had known Jasmin for a couple years as an acquaintance and knew she was a "health-nut". When she started casually mentioning "cleaning up my diet", I was less than interested. However, due to her non-confrontational manner (except at the right moments) general persistence, and with a heavy dose of charisma, I began making certain changes what I now understand as "cleaning up my diet". I soon learned that simply "not eating the worst food" could hardly be described as healthy and that covering everything with either sugar or Thousand Island Dressing was doing worse damage than I had known. But, even as I started to see a need for dietary change and preparation methods, I didn't have the time, the knowledge, the skill, and barely had the effort. Imagine my surprise when Jasmin whipped up a shopping list…complete with the location of the items in, not one, but three area grocery stores. I mean almost down to the shelf! There was no way out for me. She was even motivating me via text as I battled through the stressful aisles of Wal-Mart. I had to admit, very impressive. The bonus to my story is that I am a single father of a teenage daughter, a daughter who now, REGULARLY eats and prepares for herself, a number of different vegetables with meals, consumes very little junk food, and (the most important part) actually understands "why". Jasmin also designed a weight lifting program around my schedule and navigated me through to the proper use of supplements.
In a culture consumed with immediate results, I represent an exception. I was not overweight, I had no health problems and there was no perceivable change in my appearance from changing my diet. And that is the point, Jasmin didn't have to see that I needed to loose 50lbs or that I was taking too many medications to intervene in a positive way. Both numerically and in terms of quality, I am certain she added a good number of years to my life. She won't derive any benefit from these distant years nor will she see them, but that is just who she is, she cares, for real and for the long term. This entire review could have been summed up with "she cares" and left it at that. Regardless of a your dietary, fitness or life goals Jasmin has something for you, and trust me, it will come packaged in a way that is unique to her and personal to you.
– Nathan McDonell, Father & Business Owner/Operator of Smooth Coast, LLC


I've spent thousands of hours over the years helping my training clients achieve their goals, often lacking the time to give my own routine the same kind of focused energy. Having Jasmin as my personal nutritional consultant has been a godsend, helping me navigate the complicated waters of carb-cycling, primal-paleo living, and proper supplementation.  The absolute detail and specificity in which she formulates her plans – catered toward each individual – is second to none.  I've been utilizing her expertise with my own clients to great success!
– Alex Bedria, Certified Personal Trainer & Actor
---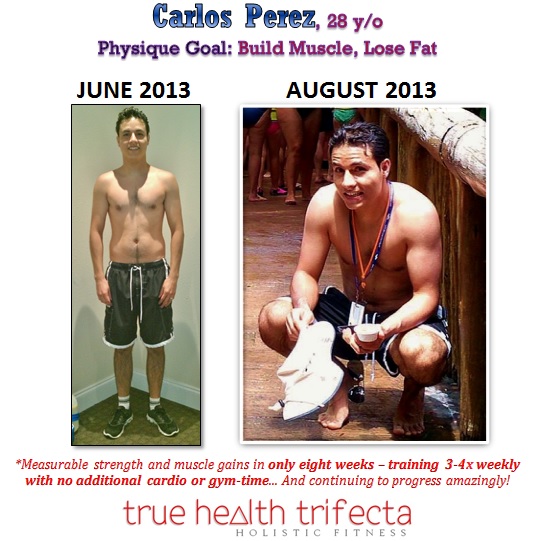 I want to thank you so much for not only being a great friend, but encouraging me with my nutrition and how to work out properly… You gave me such great advice and your knowledge of these two things combined is so incredible. You are always so creative in the healthy ways you make your foods and share them, it makes me want to always eat healthy! Your motivation is very inspiring! Thank you Jazzy!
– Dawn Murphy, Health Care Registrar & Mother