Just taking a moment to share some amazing progress from a lovely client. This girl is busy, just like the rest of you… traveling, working, an active entrepreneur with multiple thriving businesses, and – like most people – she's not about to live & breathe fitness with hours of working out and a strict diet. That's why we created a workable plan that allowed her to continue with her lifestyle AND achieve results. Flexible eating, no extreme diets or excess cardio or even daily training, better self awareness and maintainable day-to-day tweaks.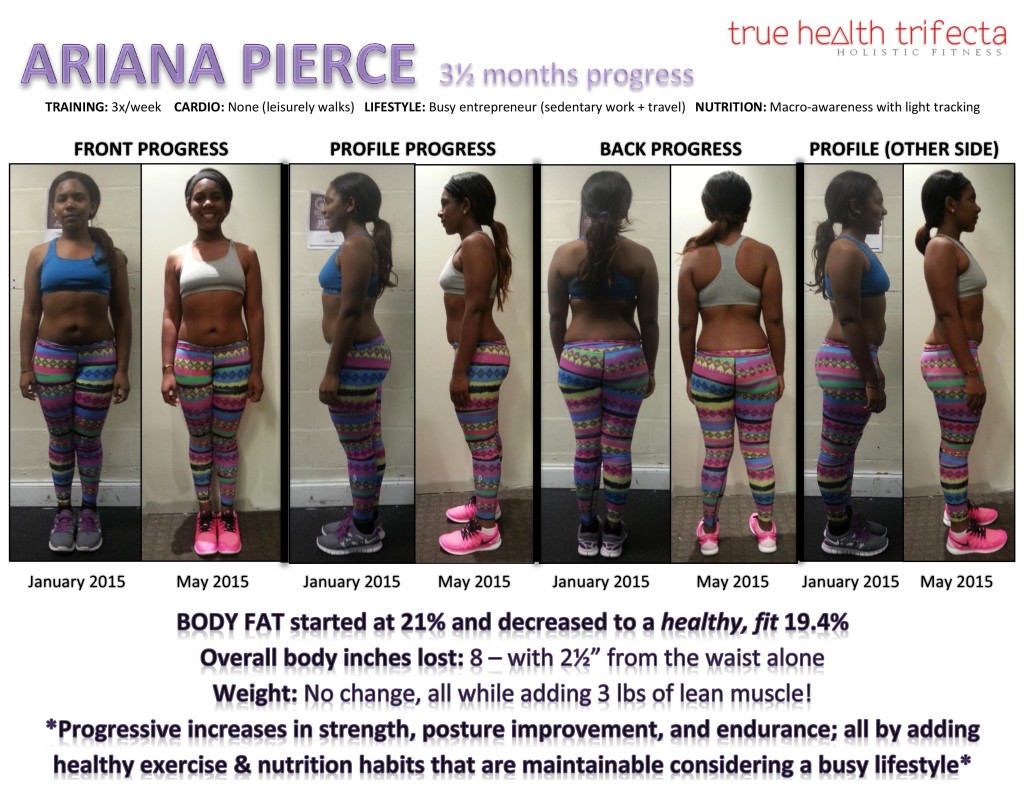 One thing that I tell clients looking to transition into a lasting healthy lifestyle is that you should start with the BARE MINIMUM that it takes to see noticeable change. That way, you are more likely to keep continuing and progressing without burning out or backsliding into former, unhealthy habits. Going balls to the wall from the start is a great catalyst for some as results happen fast; but would you rather see immediate progress and bounce right back… or practice just a little patience, trust the process, and feel and see on-going success?
The truth is, with strategic nutrition you can change your body composition to whatever you envision. At this point, I can easily calculate and provide most any individual with the nutritional and exercise means to do so. But the most important part of anyone's health & fitness journey is remaining as balanced as possible with minimal stress and while maintaining (and increasing) happiness.  Providing knowledge on how to obtain that is my priority when coaching clients towards their optimal fitness (and one of the reasons I do not coach for physique competitions as well as rarely toss out listed-food "meal plans" like other trainers may).
Something else I want you to notice about her stats – ladies, especially – is that her scale weight DID NOT CHANGE yet her physique is obviously tighter, smaller, and more fit. Often, clients come in who are simply "skinny fat" or carrying slightly higher body fat than they feel comfortable in. However, they are far from overweight (never mind, obese). Let me tell you, a large part of my client base has been said types of college-aged females and the number on the scale is like their holy grail gauge of success. This kills me, because that screwy little number can dictate someone's day, their self-worth, their self-esteem, and their overall confidence when it is actually a horribly inaccurate gauge of true fitness, health, and progress.
Try this out: Move your scale from against the wall of the bathroom floor to anywhere else in the house, and watch it vary by 3-4 pounds (yes, really… I have people test this all the time to prove this point)!
This is why another priority of mine is to teach my clients that how you feel – both in and out of your clothes AND in your mind – and body fat percentage are what matter. In non-overweight clients who are within the criteria I mentioned above, we gauge progress by waist size, overall inches lost (or gained if muscle), clothing sizes, photos and body fat calculations. I solely obtain someone's scale weight in order to calculate their body fat percentage.
Speaking of body fat, you may have heard that popular fitness phrase that "muscle weighs more than fat". Well, I'm here to tell you muscle does not actually weigh more than fat does. Think about it: a pound is a pound regardless to what you're weighing. Saying muscle weighs more than fat is like saying a pound of baseballs weighs more than a pound of feathers… when, really, they both weigh the same: a pound.
What the popular fitness quote is really trying relay is that muscle tissue is more compact – or denser – than fatty tissue; meaning it just takes up less space. So, for example, my client shown above lost 3 lbs of pure body fat while gaining 3 lbs of muscle. That is why although her scale weight remained the same, she lost inches and now fits into a smaller dress size. Simply, her body composition is much leaner and more compact thanks to less fat and more muscle.
I hope that more clearly explains how even if your body weight may not change, you are still potentially making progress in the right direction (especially if you're incorporating any strength training on your fitness journey).
In a nutshell, if you are not clinically overweight or obese and simply feel you need to "lose a few pounds" – please, PLEASE do not waste your time by diminishing any amazing progress, body reshaping, fat loss, confidence, potential for a great day, or value in your efforts because of that ridiculously wonky number on a stupid electrical device. Pick a goal pair of jeans or dress and try it on each week or two to help you gauge which direction you're going.
Back to the original subject at hand, I'm not going to say that slow-and-steady always wins the race because let's be honest – that's not always true. However, I will tell you that if quick-fixes haven't worked for you in the past (and by worked I mean you've maintained the results you achieved), it's time to reflect on your daily habits and lifestyle. Add in one thing at a time – like a walk after dinner, one large salad a day, going to the gym twice a week, or swapping soda for sparkling green tea – and stay consistent with it. Once you feel like it's almost second nature, add another new, healthy habit into your routine.
With that, stop idolizing the scale and the number it flashes every time you hop on. To gauge your progress, choose a pair of jeans or a dress to fit into for a night on the town (making your goals fashionable AND functional!) instead of anxiously depending on that little machine you just hop on for five seconds. If you do regularly weigh yourself only to feel discouraged most of the time, I challenge you to get rid of your scale and trust the process of adding health-conscious habits for a solid month. I guarantee that within a couple of weeks, you will notice increased mood and confidence (and even progress!) plus less stress simply by removing that morning-happiness-dictator from your routine… because you will finally be able to dictate your happiness again.