Brussels Sprouts are amazing. They are nutritious, all kinds of bite-sized cute, and incredibly versatile.

Versatile, indeed. And, yes, these are the actual sprouts used in today's recipe. Because multitask (and pigtails).
I'm not going to go into some story-time shpeel before sharing this recipe. It is so delicious and so easy that I am sparing you any pre-recipe childhood memory or suspenseful read before I share the goods. I also like typing out Brussels Sprouts like it's someone's proper name. The cuteness wins over being grammatically correct.
Brussels Sprouts are nutritious, with tons of vitamins, minerals, and fiber – but many people miss out because, well, how do you make them tasty? Steam them and they will likely turn into mush, making you feel like you're eating baby food. Same goes for boiling. Pan-fry them and you may get a crisp outside, but likely a still-raw-ish inside.
People either love cruciferous veggies (like Brussels Sprouts, cabbage, broccoli, and cauliflower) or they don't. I don't care what your preference is. If you try this recipe, which has only THREE main ingredients, it will blow your previously-Brussels-Sprout-hating mind.
Get ready for some yummy, candied cruciferous nuggets you will find yourself eating like popcorn.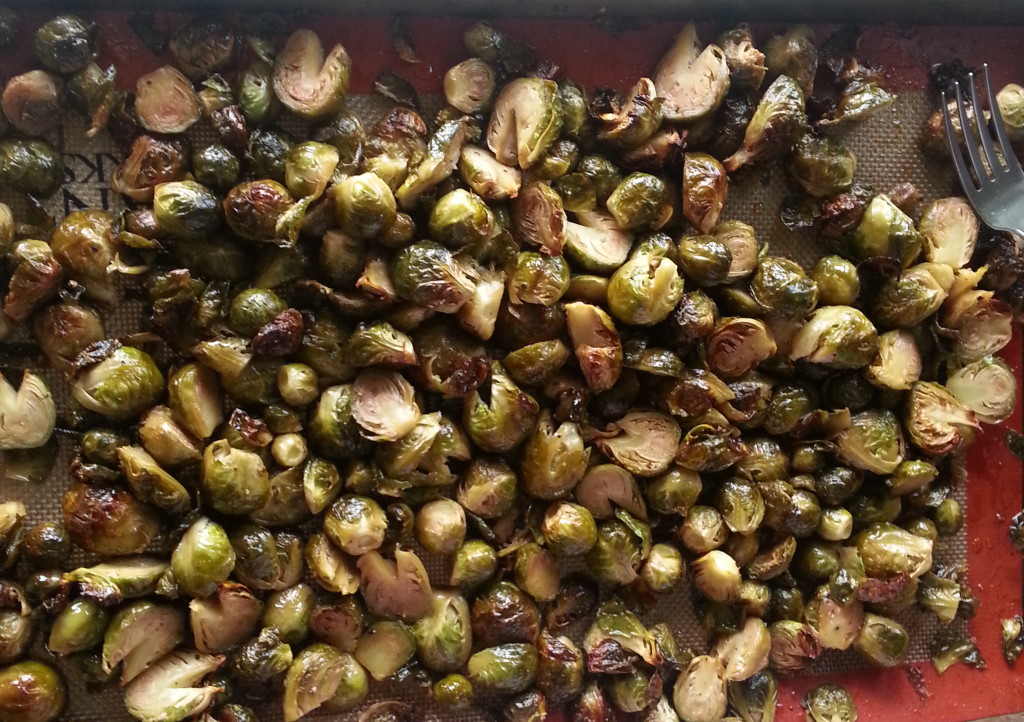 Brussels Sprouts for dayssssssssss…
SWEET, MAPLE-ROASTED BRUSSELS SPROUT POPPERS
You will need:
1-2 stalks of Brussels Sprouts, for best flavor (or enough Brussels Sprouts to cover a large, rimmed baking sheet)
1/4 Cup extra virgin olive oil
1/2 Cup high-quality, pure maple syrup
Salt & Pepper (to taste, preferably fresh ground)
Easy-peezy Directions:
 Preheat your oven to 375 degrees F.
 Rinse Brussels Sprouts well. If cutting from stalk (as I did for this recipe), rinse sprouts on stalk before cutting. Then proceed to *cut the sprouts off the stalk, halve them, and I also suggest cutting out a bit of the thick stem part from the base to prevent any bitterness once they are cooked. To do this, cut out a "V" of the firm white "heart" that would have been the base of the Brussels Sprout (you can peep this in the photos). Collect all your sprouts in a large bowl after the cutting.
In a liquid measuring cup, pour in olive oil and maple syrup (measuring as you pour… win-win for less dirty dishes) and whisk well. Pour all over the Brussels Sprouts in the bowl and mix around until they are all coated.
Pour the sprouts on your large, rimmed baking sheet. Season well with salt and pepper (I suggest freshly ground Himalayan Sea Salt & black pepper). Give another quick toss, and add a touch more salt and pepper. Sprouts should be in a single layer on the sheet, for even cooking.
Place in the preheated oven for 40-50 minutes, making sure to toss half-way through the cooking time to get everything evenly roasted. Sprouts are done when most have a dark brown, crisp outer leaf and the larger ones are fork tender.
Enjoy your insanely delicious cruciferous candy. Eat them as a side dish, pop 'em as a lone snack, mix them into a creamy soup (like my Simply Creamy Butternut Squash Soup), or share them with your veggie-loathing friends to convert them to the dark (leafy green) side.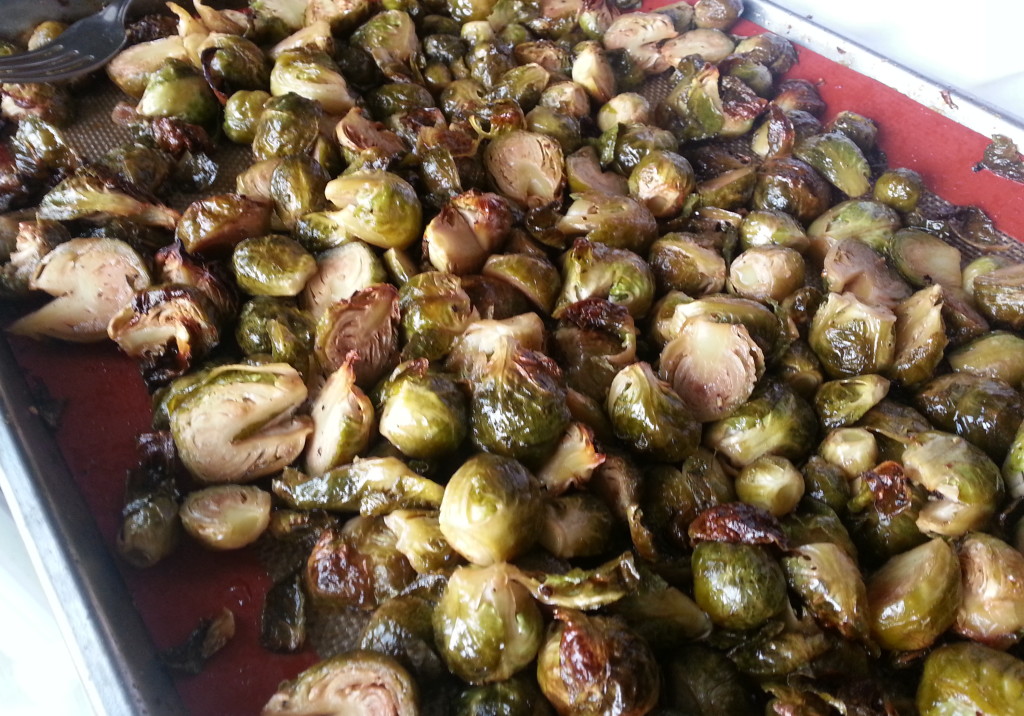 *Careful cutting those things off the stalks, especially if you are really excited and halfway paying attention… and just bought shining, new, sharp specialty knife from Costco. And your name is Jasmin. Yes, I nearly sliced my thumb clear off whilst preparing this recipe. However, the end result was clearly totally worth it.
Fun fact: Brussels Sprouts is commonly misspelled as "Brussel" Sprouts. Who's guilty?